Extracellular vesicles-mediated noncoding RNAs transfer in cancer
Journal of Hematology & Oncology
2017
10:57
Received: 25 November 2016
Accepted: 21 February 2017
Published: 23 February 2017
Abstract
Extracellular vesicles (EVs) are small membranous vesicles secreted from numerous cell types and have been found involved in cell-to-cell communication by transferring noncoding RNAs (ncRNAs) including microRNAs, long noncoding RNAs, and circular RNAs. Emerging evidence shows that EV-associated ncRNAs play important roles in a wide range of diseases, particularly in cancer where they function through regulating protein expression of the pivotal genes that make contributions to tumorigenesis. Given their stability and abundance in serum, EV-associated ncRNAs can act as new diagnostic biomarkers and new therapeutic targets for cancer. Herein, we review the properties of EV-associated ncRNAs, their functions, and potential significance in cancer.
Keywords
Extracellular vesiclesNoncoding RNAsCancerMechanism
Background
Extracellular vesicles (EVs) are small lipid bilayered vesicles released by a wide range of normal or diseased cells. Three main types of EVs are exosomes, microvesicles, and apoptotic bodies which are distinguished on the basis of their size and biogenesis [1, 2]. Exosomes are 40 to 100 nm in diameter and are released by multivesicular bodies. Microvesicles are 50 to 1000 nm in diameter and are formed by budding directly from the plasma membrane. Apoptotic bodies are 800 to 5000 nm in diameter and are derived by apoptotic cells [3–5]. The current golden standard method for separating and purifying EVs, differential ultracentrifugation, is incapable of distinguishing between exosomes and microvesicles [6]. In order to avoid unnecessary confusion, we used the term "EVs" in this review.
Noncoding RNAs (ncRNAs) refer to RNAs that cannot be translated into proteins. MicroRNAs (miRNAs) are the most widely studied class of ncRNAs with length of ~22 nucleotides, which mediate post-transcriptional gene silencing by controlling the translation of mRNA into proteins in animals [7, 8]. Long noncoding RNAs (lncRNAs) are a heterogeneous group of noncoding transcripts that make up the largest portion of the mammalian noncoding transcriptome with a length of more than 200 nucleotides [9]. LncRNAs are known to regulate gene expression via various mechanisms. For example, they can mediate epigenetic modifications of DNA by recruiting chromatin-remodeling complexes to specific loci [10, 11]. Other types of ncRNAs include ultraconserved regions (T-UCRs), small nucleolar RNAs (snoRNAs), PIWI-interacting RNAs (piRNAs) as well as circular RNAs (circRNAs), which might also contribute to the development of many different human disorders [9, 12]. Currently, ncRNAs are found to have diverse biological regulatory functions and dysregulated expression of ncRNAs is closely associated with development of diseases including cancer [12].
EVs that were initially considered as garbage bags for abandoned membrane parcels and molecular fragments were first recognized as being closely related to the function of the immune system with the finding of the role of exosomes in the presentation of B lymphocyte antigens in 1996 by Raposo et al. [13]. In the 2010s, researchers found that miRNA and mRNA can be loaded as "goods" in EVs [14]. In recent years, EVs are discovered to serve as "communication shuttles" between cells and transduct signals between cells [15].
Herein, we will discuss how ncRNAs derived from EVs participate in tumorigenesis, invasion, metastasis, and drug resistance and how to use them as new diagnostic biomarkers and therapeutic targets (Fig.
1
).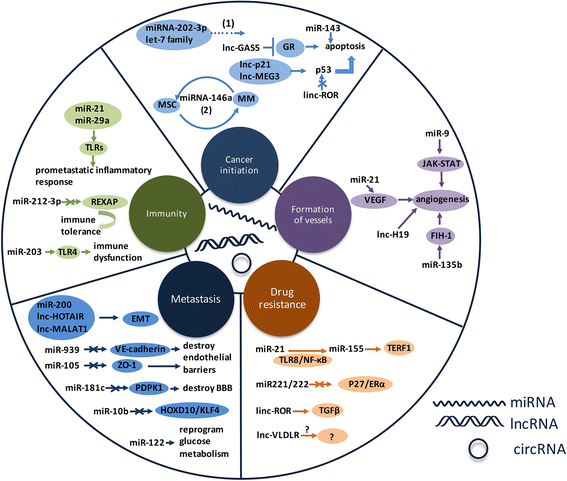 Conclusions
EVs, previously largely thought to function like garbage bags to remove excess or unnecessary constituents from the cells, have now been discovered to be mediators in specific cell-to-cell communication via transferring proteins, RNAs and DNAs. Exosomes are the most widely studied EVs. They can transfer information to the target cells through three main ways: receptor-ligand interaction, direct fusion with plasma membrane, and endocytosis by phagocytosis [112]. Amongst the components they transfer, ncRNAs have drawn the great interest of researchers since emerging evidence has suggested that EV-associated ncRNAs fulfill important functions in the regulation of gene expression and participate in the process of versatile diseases, particularly in cancer. NcRNAs derived from both cancerous cells and noncancerous cells influence on tumorigenesis, angiogenesis, metastasis, immunity, and drug resistance through diverse mechanisms. However, an outstanding question remains as to whether EV-associated ncRNAs actually function in vivo and more research utilizing convenient in vivo model systems are needed as a result. Further studies will likely also focus on the potential role of EV-associated ncRNAs as hopeful diagnostic biomarkers and novel treatment modalities, which will contribute to the health of human beings.
Abbreviations
ABL2:

ABL proto-oncogene 2
APCs:

Antigen-presenting cells
BBB:

Blood-brain barrier
CCNJ:

Cell-cycle regulation gene cyclin J
circRNAs:

Circular RNAs
CLL:

Chronic lymphocytic leukemia
DCs:

Dendritic cells
ECM:

Extracellular matrix
EMT:

Epithelial to mesenchymal transition
EVs:

Extracellular vesicles
FIH:

Factor-inhibiting hypoxia-inducible
GAS5:

Growth arrest-specific 5
GR:

Glucocorticoid receptor
GRE:

Glucocorticoid response elements
HBE:

Human bronchial epithelial
HCC:

Hepatocellular cancer
HMGA2:

High-mobility group A2
HOTAIR:

HOX antisense intergenic RNA
JAM2:

Junctional adhesion molecule 2
LAMB3:

Laminin, beta 3
LAMC2:

Laminin, gamma 2
Linc-RoR:

Long intergenic nonprotein coding RNA, regulator of reprogramming
linc-VLDLR:

The large intergenic noncoding RNA-VLDLR
lncARSR:

lncRNA activated in RCC with sunitinib resistance
lncRNAs:

Long noncoding RNAs
MALAT1:

Metastasis-associated lung adenocarcinoma transcript 1
MET:

Mesenchymal to epithelial transition
miRNAs:

MicroRNAs
MM:

Multiple myeloma
MSC:

Mesenchymal stromal cells
ncRNAs:

Noncoding RNAs
PC:

Pancreatic cancer
piRNAs:

Piwi-interacting RNAs
RBP:

RNA-binding protein
RFXAP:

Regulatory factor X-associated protein
SNAI1:

Snail family zinc finger 1
Sufu:

Suppressor of fused
TGF:

Transforming growth factor
TLRs:

Toll-like receptors
VEGF:

Vascular endothelial growth factor.
Declarations
Acknowledgements
Not applicable.
Funding
This work was supported by grants from the National Natural Science Foundation of China (No. 81672896; NO. 81272532), the Jiangsu Province Clinical Science and Technology Projects (Clinical Research Center, BL2012008), and the Priority Academic Program Development of Jiangsu Higher Education Institutions (JX10231801).
Availability of data and materials
The material supporting the conclusion of this review has been included within the article.
Authors' contributions
YS and PM designed the research. YP and PM drafted the manuscript. WL critically revised the manuscript. CS, JL, and TX discussed and revised the manuscript. All authors read and approved final manuscript.
Competing interests
The authors declare that they have no competing interests.
Consent for publication
Not applicable.
Ethics approval and consent to participate
Not applicable.
Open AccessThis article is distributed under the terms of the Creative Commons Attribution 4.0 International License (http://creativecommons.org/licenses/by/4.0/), which permits unrestricted use, distribution, and reproduction in any medium, provided you give appropriate credit to the original author(s) and the source, provide a link to the Creative Commons license, and indicate if changes were made. The Creative Commons Public Domain Dedication waiver (http://creativecommons.org/publicdomain/zero/1.0/) applies to the data made available in this article, unless otherwise stated.
Authors' Affiliations
(1)
Department of Oncology, the First Affiliated Hospital of Nanjing Medical University, Nanjing, People's Republic of China
(2)
Jiangsu Key Lab of Cancer Biomarkers, Prevention and Treatment, Collaborative Innovation Center for Cancer Personalized Medicine, Nanjing Medical University, Nanjing, People's Republic of China