Therapeutic strategies of drug repositioning targeting autophagy to induce cancer cell death: from pathophysiology to treatment
Journal of Hematology & Oncology
2017
10:67
Received: 9 January 2017
Accepted: 2 March 2017
Published: 9 March 2017
Abstract
The 2016 Nobel Prize in Physiology or Medicine was awarded to the researcher that discovered autophagy, which is an evolutionally conserved catabolic process which degrades cytoplasmic constituents and organelles in the lysosome. Autophagy plays a crucial role in both normal tissue homeostasis and tumor development and is necessary for cancer cells to adapt efficiently to an unfavorable tumor microenvironment characterized by hypo-nutrient conditions. This protein degradation process leads to amino acid recycling, which provides sufficient amino acid substrates for cellular survival and proliferation. Autophagy is constitutively activated in cancer cells due to the deregulation of PI3K/Akt/mTOR signaling pathway, which enables them to adapt to hypo-nutrient microenvironment and exhibit the robust proliferation at the pre-metastatic niche. That is why just the activation of autophagy with mTOR inhibitor often fails in vain. In contrast, disturbance of autophagy–lysosome flux leads to endoplasmic reticulum (ER) stress and an unfolded protein response (UPR), which finally leads to increased apoptotic cell death in the tumor tissue. Accumulating evidence suggests that autophagy has a close relationship with programmed cell death, while uncontrolled autophagy itself often induces autophagic cell death in tumor cells. Autophagic cell death was originally defined as cell death accompanied by large-scale autophagic vacuolization of the cytoplasm. However, autophagy is a "double-edged sword" for cancer cells as it can either promote or suppress the survival and proliferation in the tumor microenvironment. Furthermore, several studies of drug re-positioning suggest that "conventional" agents used to treat diseases other than cancer can have antitumor therapeutic effects by activating/suppressing autophagy. Because of ever increasing failure rates and high cost associated with anticancer drug development, this therapeutic development strategy has attracted increasing attention because the safety profiles of these medicines are well known. Antimalarial agents such as artemisinin and disease-modifying antirheumatic drug (DMARD) are the typical examples of drug re-positioning which affect the autophagy regulation for the therapeutic use. This review article focuses on recent advances in some of the novel therapeutic strategies that target autophagy with a view to treating/preventing malignant neoplasms.
Keywords
AMPKApoptosisAutophagic cell deathCancer stem-like cellsDrug re-positioningFerroptosismTOR signalingNrf2p53p62/SQSTM1
Background
Cellular degradation processes mainly fall into two categories: macroautophagy (commonly referred to as autophagy) and the ubiquitin-proteasome system. Autophagy is an evolutionarily conserved catabolic process involving the formation of autophagosome vacuoles that engulf cellular macromolecules and dysregulated organelles, leading to their breakdown after fusion with lysosomes [1, 2]. In contrast, ubiquitin-proteasome pathway is composed of two distinct and successive steps: marking the substrate protein with the covalent attachment of numerous ubiquitin molecules and the subsequent degradation of the tagged substrate in the 26S proteasome. Studies have highlighted significant differences between these two degradation systems [3–5]. First, autophagy generates energy efficiently via ATP synthesis in the mitochondria and maintains endoplasmic reticulum (ER) stress mediated by selective degradation of non-functional macromolecules and organelles. In contrast, the proteasome system consumes ATP. Second, the size of the protein targets that can be hydrolyzed via autophagy is virtually unlimited.
Autophagy is driven by mitochondrial depolarization, nutrient starvation, aggregation of toxic proteins, and pathogen infection [6–13]. Thus, viruses, large protein aggregates, and entire organelles are selectively broken down by the autolysosome, which is formed by the fusion of autophagosomes with lysosomes. Autophagy–lysosome flux mainly comprises three steps: (i) formation of phagophores, derived by the ER, mitochondria, and Golgi apparatus [14–16]; (ii) formation of autophagosomes containing macromolecules, pathogenic protein aggregates, and dysregulated mitochondria; and (iii) fusion of autophagosomes with lysosomes to form autolysosomes (with a low pH for protein degradation) [17, 18]. Autophagy is responsible for the clearance of old and dysfunctional organelle. In particular, mitophagy is the selective autophagy-dependent degradation of dysfunctional mitochondria under hypoxic conditions [19]. Mitophagy serves as an adaptive metabolic response that prevents accumulation of high levels of reactive oxygen species (ROS) by removing old/damaged mitochondria [19–21]. Mitochondrial permeability transition is thought to be responsible for the mitophagy of depolarized mitochondria, thereby generating cytotoxic ROS [19, 22].
Mammalian target of rapamycin complex 1 (mTORC1) integrates nutrient and growth factor signaling to promote anabolic metabolisms, such as protein synthesis and lipid synthesis, and to inhibit catabolic pathways, such as lysosome biogenesis and autophagy [
23
]. Whereas phosphatidylinositol 3-kinase (PI3K)/Akt/mTOR pathway is constitutively activated in numerous kinds of tumors, suppression of PI3K/Akt survival signaling pathway due to the hypo-nutrient microenvironment leads to autophagy induction in tumor cells [
24
,
25
]. During autophagy, the adaptor protein p62/SQSTM1 is consumed, and LC-3 conversion is promoted [
26
,
27
] (lower panel in Fig.
1
). Obstruction of autophagy flux can be induced artificially by chloroquine and bafilomycin A1, both of which result in increased levels of ubiquitination, p62 activation, and LC3-II accumulation (upper panel in Fig.
1
). The smooth autophagy–lysosome pathway, which is termed autophagy flux, can be disturbed by bafilomycin A1, a specific inhibitor of vacuolar-type H
+
-ATPase. In the presence of bafilomycin A1, autophagosomes fail to exhibit the fusion with lysosomes, leading to the accumulation of numerous immature autophagosomes [
3
,
28
,
29
]. Thus, levels of the adaptor protein p62/SQSTM1 and the lipidated mature form of LC3 (LC3-II) increase in the presence of bafilomycin A1 and/or chloroquine under steady state or starvation conditions.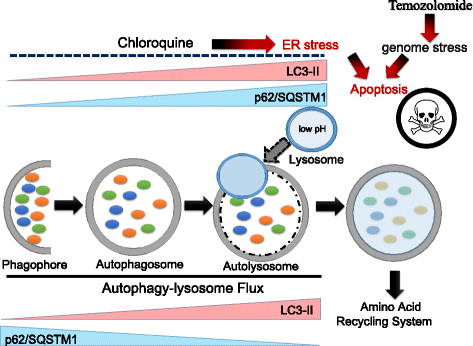 Impairment of the autophagy–lysosome pathway induces apoptosis mainly via excessive ER stress [30, 31]. In contrast, temozolomide (TMZ) is an alkylating agent that induces the formation of O6-methylguanine in DNA, which in turn induces mismatch pair with thymine during the following cycle of DNA replication [32, 33]. Accumulating evidence strongly suggests the role of O6-methylguanine-DNA methyltransferase (MGMT) expression in the acquired resistance to TMZ in malignant glioma and acute leukemia cells [34, 35]. The mechanisms underlying the action of TMZ and the pathways by which glioma cells escape death have yet to be adequately elucidated; however, genome stress due to TMZ synergistically induces apoptosis in collaboration with accumulated ER stress upon chloroquine treatment (Fig. 1) [2, 3].
Conclusions
Conventional agents are not only pharmacologically safe but also cheaper than specialized anticancer drugs. However, much remains to be discovered in terms of the cross-talk between signals that mediate autophagy and apoptosis [168, 169]. The 2016 Nobel Prize in Physiology or Medicine was awarded to Emeritus Professor Yoshinori Ohsumi (Tokyo Institute of Technology) for his discovery of the autophagy machinery [170]; therefore, improving our understanding of the mechanisms and relationships between conventional drugs, chemotherapy, and autophagy in the clinical setting is an important research topic. Such an approach will enable us to develop novel anticancer treatments that target signal transduction pathways related to cancer cell death.
Abbreviations
AMPK:

AMP-activated protein kinase
ARE:

Antioxidant response element
Atg:

Autophagy-related gene
ATM:

Ataxia-telangiectasia (A-T) mutated
CAF:

Cancer-associated fibroblasts
CagA:

Cytotoxin-associated gene A
Cav-1:

Caveolin 1
CDK1:

Cyclin-dependent kinase 1
CSCs:

Cancer stem-like cells
DHA:

Dihydroartemisinin
DHFR:

Dihydrofolate reductase
DRAM:

Damage-regulated autophagy modulator
DRD4:

Dopamine receptor D4
EpCAM:

Epithelial cell adhesion molecule
ER:

Endoplasmic reticulum
GBM:

Glioblastoma multiforme
GIST:

Gastrointestinal stromal tumor
GNS:

GBM neural stem cells
GSH:

Glutathione
H. pylori :

Helicobacter pylori
HDAC:

Histone deacetylases
HO-1:

Heme oxygenase 1
IL:

Interleukin
Iso-Pyr:

Iso-pyrimethamine
JNK:

c-Jun NH2-terminal kinase
KEAP1:

Kelch-like ECH-associated protein 1
MBP:

Methylbenzoprim
MCT:

Monocarboxylate transporter
MEFs:

Mouse embryonic fibroblasts
MNP:

m-Nitropyrimethamine
MPT:

Mitochondrial permeability transition
mTOR:

Mammalian target of rapamycin
MZPES:

m-Azidopyrimethamine ethanesulfonate salt
NQO-1:

NAD(P)H-quinone oxidoreductase-1
Nrf2:

Nuclear factor erythroid 2-related factor 2
PARP:

Poly (ADP-ribose) polymerase
PI3K:

Phosphatidylinositol 3-kinase
Pyr:

Pyrimethamine
ROS:

Reactive oxygen species
SLE:

Systemic lupus erythematosus
TEM:

Transmission electron microscope
TMZ:

Temozolomide
TRPV1:

Transient receptor potential cation channel subfamily V member 1
UPR:

Unfolded protein response
VEGF:

Vascular endothelial growth factor
VPA:

Valproic acid
Declarations
Acknowledgements
The author thanks Professor Victor C. Kok, MMedSc, MD, PhD, FACP (Asia University, Taichung, Taiwan) for the critical appraisal of the manuscript.
Availability of data and materials
Not applicable.
Author contributions
GJY conceived the study, searched the literature, and drafted and revised the manuscript.
Competing interests
The author declares no competing interests.
Consent for publication
Not applicable.
Ethics approval and consent to participate
Not applicable.
Publisher's note
Springer Nature remains neutral with regard to jurisdictional claims in published maps and institutional affiliations.
Open AccessThis article is distributed under the terms of the Creative Commons Attribution 4.0 International License (http://creativecommons.org/licenses/by/4.0/), which permits unrestricted use, distribution, and reproduction in any medium, provided you give appropriate credit to the original author(s) and the source, provide a link to the Creative Commons license, and indicate if changes were made. The Creative Commons Public Domain Dedication waiver (http://creativecommons.org/publicdomain/zero/1.0/) applies to the data made available in this article, unless otherwise stated.
Authors' Affiliations
(1)
Department of Pathological Cell Biology, Medical Research Institute, Tokyo Medical and Dental University, Tokyo, Japan
(2)
Japan Society for the Promotion of Science, Tokyo, Japan