Clinical implications of genome-wide DNA methylation studies in acute myeloid leukemia
Journal of Hematology & Oncology
2017
10:41
Received: 8 December 2016
Accepted: 27 January 2017
Published: 2 February 2017
Abstract
Acute myeloid leukemia (AML) is the most common type of acute leukemia in adults. AML is a heterogeneous malignancy characterized by distinct genetic and epigenetic abnormalities. Recent genome-wide DNA methylation studies have highlighted an important role of dysregulated methylation signature in AML from biological and clinical standpoint. In this review, we will outline the recent advances in the methylome study of AML and overview the impacts of DNA methylation on AML diagnosis, treatment, and prognosis.
Keywords
Acute myeloid leukemiaDNA methylationClinical implications
Background
Acute myeloid leukemia (AML) is characterized by clonal expansion of undifferentiated myeloid precursors, resulting in impaired hematopoiesis and bone marrow failure [1]. AML is a predominantly fatal hematopoietic malignancy with high heterogeneity [2–5]. Genetic heterogeneity has been appreciated in AML since early karyotyping studies [6]. With next-generation sequencing (NGS), genome studies of somatic mutations have shown a comprehensive landscape of AML and contributed to the understanding of the pathogenesis and progression of AML [5, 7–9]. A latest study of 1540 AML patients revealed distinct molecular subgroups that reflect discrete paths in the evolution of AML, informing disease classification and prognostic stratification [5]. It is well established that genetic aberrations play a critical role on the diagnosis, treatment, and prognosis of AML, which is fully reflected in the National Comprehensive Cancer Network (NCCN) guidelines for AML. However, nearly 50% of AML samples have a normal karyotype and many patients carry no mutation [10–12]. Meanwhile, DNA methylation patterns are altered in numerous cancers and often correlate with clinically relevant information such as subtypes, prognosis, and drug response [13–15]. Indeed, aberrant DNA methylation patterns are a hallmark of AML [16–18]. Despite the recognized relationship between DNA methylation and AML, the development of methylome assessment is limited by the lack of rapid, reliable assays that provide validated information. Recently, the advance of technologies, e.g., DNA methylation microarrays and next-generation sequencing [19–25], has made methylome analysis less time-consuming, reproducible, and cost-effective [24, 26], and the genome-wide coverage has been extended to non-CpG island regions, e.g., enhancer, exon, intron, and intergenic [21, 24, 25, 27]. With high accuracy and robustness, DNA methylation analysis has been confirmed to be feasible and reliable in clinical diagnosis and precision medicine, especially for highly heterogeneous diseases such as AML [26, 28, 29]. There are now an increasing number of studies reporting aberrant DNA methylation in AML [30–34], and new methods for detecting DNA methylation on a genome-wide scale have significantly widened our knowledge about aberrant methylation patterns in AML. For example, distinct DNA methylation patterns are used to define AML subgroups and a set of aberrantly methylated genes are identified and linked to the clinical outcome [9, 30, 35]. Additionally, DNA methylation and mutation patterns may occur with distinct kinetics to affect the biological and clinical features of AML [9].
Conclusions
DNA methylation is a common theme in acute myelogenous leukemogenesis. With the progress of technologies in identifying DNA methylation [
24
–
26
,
28
,
29
], especially the milestones in data integration, sharing, and analysis strategies, such as the International Human Epigenome Consortium Data Portal (IHEC Data Portal) [
90
], the BLUEPRINT Data Analysis Portal (BDAP) [
91
], and the tool for identifying cell type-specific signal in epigenomic data (eFORGE) [
92
], DNA methylation will be more widely used in clinical practice and become more valuable in diagnosis classification, prognostic stratification, and therapeutic decision-making of AML. This will contribute to the development of precision medicine in AML. Besides, a further understanding of the relationship among DNA methylation, genetic aberrations, and expression might provide unprecedented insights into the pathogenesis of AML (Fig.
2
).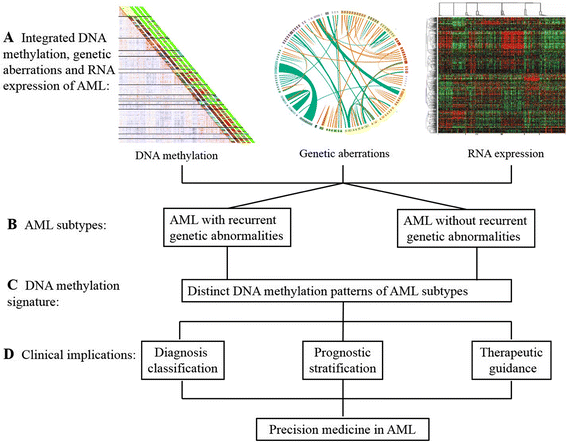 Abbreviations
5-mC:

5-Methylcytosine
AML:

Acute myeloid leukemia
AML1/ETO:

AML1 and eight twenty-one rearrangements
APL:

Acute promyelocytic leukemia
BDAP:

The BLUEPRINT Data Analysis Portal
CBFB-MYH11:

Core-binding factor beta and myosin heavy chain 11 rearrangements
CDH:

E-cadherin
CDKN2A/2B:

Cyclin dependent kinase inhibitor 2A/2B
CEBPA:

CCAAT/enhancer binding protein alpha
CN-AML:

Cytogenetically normal AML
CR:

Complete response
DFS:

Disease-free survival
DGGE:

Bisulfite-denaturing gradient gel electrophoresis
DHRS3:

Dehydrogenase/reductase 3
DMP:

DNA methylation profiles
DMR:

Different methylation region
DNA:

Deoxyribonucleic acid
DNMT3A:

DNMT 3 alpha
DNMTs:

DNA methyltransferases
eFORGE:

The tool for identifying cell type-specific signal in epigenomic data
EPM:

The global metric eloci per million loci
ERBBS:

Enhanced reduced representation bisulfite sequencing
FAB:

French–American–British
FLT3-ITD:

Fms-related tyrosine kinase 3 internal tandem duplication
GEP:

Gene expression profiles
HELP:

HpaII tiny fragment enrichment by ligation-mediated PCR
HIC1:

Hypermethylated in cancer 1
HMAs:

Hypomethylating agents
HSCs:

Hematopoietic stem cells
ID4:

Inhibitor of DNA binding 4
IDH1/2:

Isocitrate dehydrogenase (NADP(+)) 1/2
IHEC:

Data Portal the International Human Epigenome Consortium Data Portal
Klf4:

Kruppel-like factor 4
LUMA:

Luminometric methylation assay
MLL:

Mixed lineage leukemia
MN1:

MN1 proto-oncogene, transcriptional regulator
MYC:

v-Myc avian myelocytomatosis viral oncogene homolog
NCCN:

National Comprehensive Cancer Network
NGS:

Next-generation sequencing
NPM1:

Nucleophosmin
OCT4:

Organic cation/carnitine transporter4
OS:

Overall survival
PBX3:

PBX homeobox 3
PML-RARa:

Promyelocytic leukemia and retinoic acid receptor alpha rearrangements
RUNX1:

Runt related transcription factor 1
SOX2:

SRY-box 2
SPARC:

Secreted protein acidic and cysteine rich
ST18:

ST18, C2H2C-type zinc finger
TCGA:

The Cancer Genome Atlas Research Network
TET2:

Tet methylcytosine dioxygenase 2
WBC:

White blood cell
WHO:

World Health Organization
xMELP:

Expedited HpaII small fragment enrichment by ligation-mediated PCR
Declarations
Acknowledgements
The authors are grateful to Yaojie Liang for the preparation of the graphical illustrations.
Funding
This work was supported by the National Natural Science Foundation of China (8167016, 81370635, 81170518, 81270611, 81570137, 81470010, and 81400135), Capital Medical Development Scientific Research Fund (SF2001-5001-07), Beijing Natural Science Foundation (7151009), National Public Health Grant Research Foundation (No.201202017), The capital of the public health project (Z111107067311070), and Technology Innovation Nursery Foundation (13KMM01). The funders had no role in study design, data collection and analysis, decision to publish, or preparation of the manuscript.
Availability of data and materials
This is a review article, and the specific datasets supporting the conclusions of this article were generated by other research groups. Our supporting data was obtained from the referenced publications.
Authors' contributions
LY and YL designed this review. YL, QYX, NL, HMZ, and XLW searched literatures and contributed suggestions. YL and QYX reviewed the literatures. YL drafted the manuscript and designed the figure and table, while QYX edited and LY critically revised the manuscript. LLW, CJC, and YHL provided valuable advice and also revised the manuscript. All authors read and approved the final manuscript.
Competing interests
The authors declare that they have no competing interests.
Consent for publication
Not applicable.
Ethics approval and consent to participate
Not applicable.
Open AccessThis article is distributed under the terms of the Creative Commons Attribution 4.0 International License (http://creativecommons.org/licenses/by/4.0/), which permits unrestricted use, distribution, and reproduction in any medium, provided you give appropriate credit to the original author(s) and the source, provide a link to the Creative Commons license, and indicate if changes were made. The Creative Commons Public Domain Dedication waiver (http://creativecommons.org/publicdomain/zero/1.0/) applies to the data made available in this article, unless otherwise stated.
Authors' Affiliations
(1)
Department of Hematology and BMT center, Chinese PLA General Hospital, Beijing, China
(2)
Department of Hematology, Hainan Branch of Chinese PLA General Hospital, Sanya, China
(3)
Medical school of Nankai University, Tianjin, China
(4)
Annoroad Gene Technology Co. Ltd, Beijing, China