Therapeutic potential of new B cell-targeted agents in the treatment of elderly and unfit patients with chronic lymphocytic leukemia
Journal of Hematology & Oncology
2015
8:85
Received: 19 March 2015
Accepted: 2 June 2015
Published: 14 July 2015
Abstract
Chronic lymphocytic leukemia (CLL), the most common adult leukemia in the Western world, is primarily a disease of the elderly, with most patients ≥65 years of age and having at least one major comorbidity. Aggressive chemoimmunotherapy regimens recommended to achieve remission and improve survival in young, fit patients are often poorly tolerated in elderly and/or less physiologically fit ("unfit") patients, necessitating alternative treatment options. Although patient age, fitness, and comorbidities are key considerations in the selection of a treatment regimen, historically, clinical trials have been limited to young, fit patients by virtue of the ethical concerns associated with potential end organ toxic effects that could worsen comorbidities. However, the availability of new therapies promises a shift to a research paradigm that encompasses the identification of optimal treatments for elderly and unfit patients. Anti-CD20 monoclonal antibody therapy, which overall has improved response rates and survival in patients with CLL, has only recently been evaluated elderly and unfit patients. B cell-targeted agents such as the Bruton's tyrosine kinase inhibitor ibrutinib and the phosphatidylinositol 3-kinase inhibitor idelalisib are the first of a new generation of oral agents for CLL. Available clinical data suggest that these therapies have the potential to address the unmet need in elderly and unfit patients with CLL and result in clinical remission, and not merely symptom palliation and improved quality of life, which, by themselves, are also a reasonable goal.
Keywords
BTKChronic lymphocytic leukemiaComorbiditiesElderlyPI3K
Introduction
Chronic lymphocytic leukemia (CLL) is a lymphoproliferative disorder whose clinical features include the abnormal proliferation of mature B cells in peripheral blood, bone marrow, and lymph nodes [
1
]. It is the most common adult leukemia in the Western world [
2
]; in the USA, approximately 15,720 new CLL cases and 4600 deaths are expected to have occurred in 2014 [
3
]. CLL is primarily a disease of the elderly, with a median age at diagnosis of approximately 72 years [
4
,
5
] and nearly 70 % of diagnoses in patients ≥65 years of age (Fig.
1a
) [
6
]. The incidence of CLL increases progressively with each decade in patients >60 years of age (Fig.
1b
) [
7
], and most patients have at least one major comorbidity (Fig.
2
) [
8
].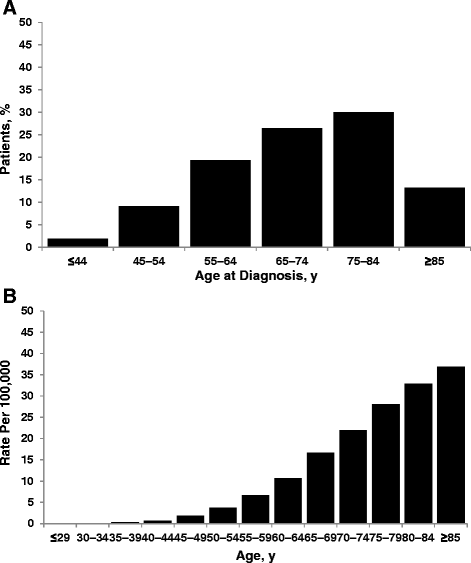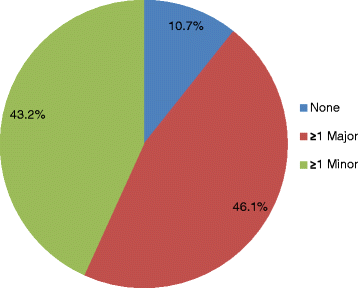 Chronic lymphocytic leukemia is currently considered incurable [1], but in many patients, the disease is indolent. Therefore, even though diagnosis is typically made early in the disease course [1], therapy is reserved for those with advanced, symptomatic, or aggressive disease [9]. Accordingly, patients typically receive their first treatment at an older age [6], when they may be frail and have comorbidities that complicate treatment.
Within the current CLL treatment paradigm, there are important unmet needs in elderly and less physiologically fit (unfit) patients. This article reviews the evolution and current status of therapy for CLL, with particular regard to elderly and unfit patients, and discusses the potential of B cell-targeted agents.
Conclusions
Chronic lymphocytic leukemia is most common in older patients, with approximately 70 % of diagnoses in patients ≥65 years of age [6], and first treatment typically occurs at an advanced age when many patients have multiple comorbidities [4, 5, 7, 8]. Although age and comorbidity are recognized as important considerations in prognostic assessment and choice of therapy, historically, clinical trials have excluded elderly and unfit patients because of legitimate ethical concerns regarding potential toxic effects in vital organs and worsening of comorbidity. However, with the development of oral therapies that are relatively nontoxic, CLL oncology is at the cusp of a paradigm shift whereby clinical trials will specifically address outcomes in elderly and unfit patients, who are more representative of the general CLL population.
Whereas in younger and/or fit patients with CLL, aggressive chemoimmunotherapy is recommended to achieve CR and prolong survival [10], such regimens are often poorly tolerated by elderly and/or unfit patients, necessitating an alternative approach. Although the NCCN guidelines recommend alternative anti-CD20 monoclonal antibody therapy regimens as first-line therapy in elderly and/or unfit patients [10], there have been few clinical trials of these therapies in this population. Ibrutinib, a BTK inhibitor, and idelalisib, a PI3K inhibitor, are the first of a new generation of agents to receive approval for treatment of CLL; several other kinase inhibitors, including fostamatinib, are in clinical development. These agents target BCR signaling, which plays a key role in B-cell processes fundamental to tumor growth, including B-cell proliferation and survival, and offers an important therapeutic target in CLL. Preclinical data for idelalisib, which is selective for the PI3Kδ isoform, provide a potential mechanism of action for clinical activity without toxicities associated with effects in nonhematopoietic cells. Recently reported trials of ibrutinib and idelalisib support the usefulness of kinase inhibitors as treatment options in elderly and unfit patients. The many ongoing trials will help address unmet need in this difficult-to-treat population by defining rates of CR and further informing optimal treatment strategies.
Abbreviations
AEs:

Adverse events
BCR:

B-cell receptor
BTK:

Bruton's tyrosine kinase
CCI:

Charlson comorbidity index
CIRS:

Cumulative Illness Rating Scale
CLL:

Chronic lymphocytic leukemia
CR:

Complete response
ECOG:

Eastern Cooperative Oncology Group
FCR:

Rituximab with fludarabine and cyclophosphamide
ICED:

Index of Coexistent Disease
NCCN:

National Comprehensive Cancer Network
NCI:

National Cancer Institute
NHL:

Non-Hodgkin lymphoma
PFS:

Progression-free survival
PI3K:

Phosphatidylinositol 3-kinase
SEER:

NCI surveillance, epidemiology, and end results
SYK:

Spleen tyrosine kinase
SLL:

Small lymphocytic lymphoma
Declarations
Acknowledgements
Dr. Rai was supported by grants from the Nash Family Foundation, Karches Family Foundation, Leon Levy Foundation, Jerome Levy Foundation, Feinberg Family Foundation, Andrew Albert Foundation, and Peter Jay Sharp Foundation.
Editorial support for the preparation of this manuscript was provided by C4 MedSolutions, LLC, a CHC Group company (Yardley, PA), with funding from Gilead Sciences. Gilead did not contribute to, review, edit, or comment on the manuscript, and the decision to submit to the Journal of Hematology and Oncology was made by KRR.
Authors' Affiliations
(1)
Hofstra North Shore-LIJ School of Medicine and the North Shore-LIJ Cancer Institute, Lake Success, USA
(2)
CLL Research & Treatment Program, NSLIJ Health System, New Hyde Park, USA
Copyright
© Rai. 2015
This is an Open Access article distributed under the terms of the Creative Commons Attribution License (http://creativecommons.org/licenses/by/2.0), which permits unrestricted use, distribution, and reproduction in any medium, provided the original work is properly credited. The Creative Commons Public Domain Dedication waiver (http://creativecommons.org/publicdomain/zero/1.0/) applies to the data made available in this article, unless otherwise stated.