MicroRNA-binding site polymorphisms in hematological malignancies
Journal of Hematology & Oncology
2014
7:83
Received: 18 September 2014
Accepted: 6 November 2014
Published: 25 November 2014
Abstract
Dysregulation of microRNA networks has been implicated in hematological malignancies. One of the reasons for disturbed miRNA-mediated regulation are polymorphisms in miRNA-binding sites (miRSNPs), which alter the strength of miRNA interaction with target transcripts. In the recent years the first findings of miRSNPs associated with risk and prognosis in hematological malignancies have been reported. From the studies described in this review miRSNPs not only emerge as novel markers of risk and prognosis but can also lead to better understanding of the role of miRNAs in regulating gene expression in health and disease.
Keywords
microRNAmiRNA-binding site polymorphismLeukemiaLymphomaMyelomaRiskPrognosis
Introduction
The non-protein coding parts of the genome have been recognized as key players in the regulation of gene expression. Among various classes of non-coding RNAs, the best known are microRNAs (miRNA), small (~22 nucleotide) RNA molecules. MiRNAs bind to complementary target sequences usually located in the 3' untranslated region (3'UTR) of mRNAs and act predominantly by negatively regulating gene expression [1]. According to the miRBase database, a catalog of miRNA sequences in animals, plants and viruses, so far over 2500 mature human miRNAs have been characterized [2]. Since miRNAs are predicted to regulate over 60% of human protein-coding genes [3], it is not surprising that they have been shown to regulate a plethora of biological processes, including cell proliferation, apoptosis, differentiation and metabolism [4]. Several lines of evidence have demonstrated that miRNAs are required for normal hematopoiesis, while miRNA dysregulation has been associated with the pathogenesis of hematological malignancies [5],[6].
The crucial step in the process of miRNA-mediated regulation of gene expression is recognition of the target transcript by miRNA. In animals this recognition is based on pairing of the nucleotides 2-7 of miRNA (so called `seed' region) with complementary sequences in the mRNA, which are usually located in the 3'UTR, but can also be present in the 5'UTR or in the coding region. In addition, pairing of nucleotides 13-16 of the miRNA enhances the miRNA-mRNA interaction and the efficiency of miRNA binding depends also on target site accessibility and secondary structure of the miRNA-target duplex [7]. The requirement for a strict Watson-Crick pairing between the `seed' region of miRNA and its target transcript implies that genetic variability in the 3'UTR can affect miRNA binding by destroying existing sites or creating new miRNA-mRNA interactions. Computational analysis identified hundreds of single nucleotide polymorphisms (SNPs) located within predicted and experimentally verified miRNA-binding sites or potentially creating novel sites for miRNA binding. Moreover, there is evidence for a strong negative selection on SNPs in miRNA-binding sites (miRSNPs) as compared to the entire 3'UTR sequence [8]-[10], which supports the functional significance of those sites. In the recent years several studies have shown association of miRSNPs with cancer and other diseases [11],[12]. In the field of hematological malignancies the first evidence for a disease-associated miRSNP came in 2012 [13] and since then six other studies have been published. Here I will systematically review the so far presented evidence for the relevance of miRSNPs for leukemias, lymphomas and myeloma.
Conclusions
More evidence is accumulating for the involvement of deregulated miRNA networks in cancer development. Polymorphisms in miRNA-binding sites of target genes may disrupt miRNA-mediated regulation of gene expression by not only affecting the levels and function of the given protein, but can also interfere with expression of other genes targeted by the same miRNA.
So far only a few studies demonstrated the relevance of miRNA target site polymorphisms for hematological malignancies, but this number will doubtless grow in the next years. The studies presented in this review explored the significance of miRSNPs for the risk or prognosis of blood cancers to a different degree: some did not go beyond reporting a significant association, while others pursued the functional consequences of the miRSNPs. Based on the work described in this review, it is evident that a comprehensive study of miRSNPs in disease should include several carefully planned and performed stages (Figure
1
). The first step is the selection of candidate miRSNPs. Thorough scrutiny at this stage will increase the probability of finding miRSNPs of functional importance and facilitate interpretation of the results. Preferably, candidate SNPs should be searched for in genes with proven relevance for the disease in question, which will already give hint for their functional significance. Several tools are available for the prediction of the impact of SNPs on miRNA binding, e.g. miRanda [
24
], PITA [
25
], SNPinfo [
26
] and PolymiRTS [
27
], and since they use different algorithms for miRNA target prediction, it is advisable to select miRSNPs with the highest support from the available tools. The set of thus selected miRSNPs should be further narrowed down to those predicted to affect binding of miRNAs that are expressed in the relevant cell type, using databases integrating data on miRNA expression across different tissues and cell types, such as mimiRNA [
28
] or the non-coding RNA body map [
29
]. Allele and genotype frequencies of the selected miRSNPs are then assessed in appropriate patient and control groups to identify miRSNPs associated with disease risk or prognosis. For statistically significant miRSNPs their impact on binding of miRNAs predicted by the
in silico
analysis should be verified, ideally both
in vitro
and
in vivo
. Gene reporter assays (e.g. luciferase assay) allow to identify specific miRNAs which bind differentially to the wild-type and variant 3'UTRs. Depending on whether or not the miRNA of interest is expressed in the cell line used in luciferase assay, miRNA mimics and/or inhibitors need to be used in the assay to ensure that the observed effect can be attributed to the specific miRNA. mRNA and protein expression should be also compared between different genotypes
in vivo
in relevant samples, taking into account levels of specific miRNAs in individual samples. Finally, based on the known functions of the protein encoded by the gene bearing the miRSNP, appropriate tests should be performed to unravel functional consequences of the miRSNP, which could explain their impact on the disease risk or prognosis. In case no significant effects are observed, an alternative possibility worth considering is an indirect impact of a miRSNP on expression of other genes targeted by the same miRNA through changes in the pool of miRNA available for binding in the cell. It has been proposed that different classes of RNA transcripts – mRNAs, pseudogenes and long non-coding RNAs – compete for miRNA binding, intertwined in a large regulatory network. The "competing endogenous RNA" (ceRNA) hypothesis assumes that RNAs communicate with each other through miRNAs and miRNA recognition sequences [
23
]. Thus, the effect of a miRSNP may extend beyond expression of the gene bearing the polymorphism, and influence other RNAs regulated by the same miRNA.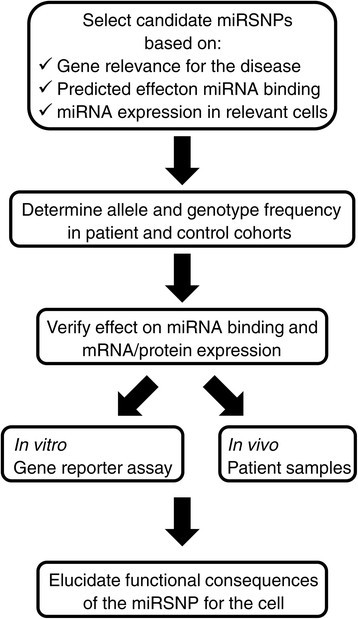 In conclusion, polymorphisms in miRNA-binding sites not only offer a possibility of novel diagnostic and prognostic markers in hematological malignancies, but can also help to understand complex regulatory networks of miRNAs in health and disease. With the development of more sophisticated bioinformatics algorithms and accumulation of data from sequencing of cancer genomes, identification of miRSNPs of clinical utility and functional relevance for hematological malignancies should be facilitated.
Abbreviations
ALL:

Acute lymphoblastic leukemia
AML:

Acute myeloid leukemia
CDS:

Coding sequence
CML:

Chronic myeloid leukemia
ceRNA:

Competing endogenous RNA
DFS:

Disease-free survival
DLBCL:

Diffuse large B-cell lymphoma
HL:

Hodgkin lymphoma
miRNA:

microRNA
miRSNP:

miRNA-binding site polymorphism
MM:

multiple myeloma
NHL:

Non-Hodgkin lymphoma
OR (95% CI):

Odds ratio (95% confidence interval)
OS:

Overall survival
PFS:

Progression-free survival
RFS:

Relapse-free survival
SNP:

Single nucleotide polymorphism
UTR:

3' untranslated region
Declarations
Acknowledgements
This work was supported by the Ministry of Science and Higher Education grant no N N401 570740.
Authors' Affiliations
(1)
Institute of Human Genetics, Polish Academy of Sciences, Poznań, Poland
Copyright
© Dzikiewicz-Krawczyk; licensee BioMed Central Ltd. 2014
This article is published under license to BioMed Central Ltd. This is an Open Access article distributed under the terms of the Creative Commons Attribution License (http://creativecommons.org/licenses/by/4.0), which permits unrestricted use, distribution, and reproduction in any medium, provided the original work is properly credited. The Creative Commons Public Domain Dedication waiver (http://creativecommons.org/publicdomain/zero/1.0/) applies to the data made available in this article, unless otherwise stated.