Immunosuppressive/anti-inflammatory cytokines directly and indirectly inhibit endothelial dysfunction- a novel mechanism for maintaining vascular function
Journal of Hematology & Oncology
2014
7:80
Received: 30 July 2014
Accepted: 13 October 2014
Published: 31 October 2014
Abstract
Endothelial dysfunction is a pathological status of the vascular system, which can be broadly defined as an imbalance between endothelium-dependent vasoconstriction and vasodilation. Endothelial dysfunction is a key event in the progression of many pathological processes including atherosclerosis, type II diabetes and hypertension. Previous reports have demonstrated that pro-inflammatory/immunoeffector cytokines significantly promote endothelial dysfunction while numerous novel anti-inflammatory/immunosuppressive cytokines have recently been identified such as interleukin (IL)-35. However, the effects of anti-inflammatory cytokines on endothelial dysfunction have received much less attention. In this analytical review, we focus on the recent progress attained in characterizing the direct and indirect effects of anti-inflammatory/immunosuppressive cytokines in the inhibition of endothelial dysfunction. Our analyses are not only limited to the importance of endothelial dysfunction in cardiovascular disease progression, but also expand into the molecular mechanisms and pathways underlying the inhibition of endothelial dysfunction by anti-inflammatory/immunosuppressive cytokines. Our review suggests that anti-inflammatory/immunosuppressive cytokines serve as novel therapeutic targets for inhibiting endothelial dysfunction, vascular inflammation and cardio- and cerebro-vascular diseases.
Keywords
Anti-inflammatory cytokines
Endothelial dysfunction
Metabolic cardiovascular diseases
Introduction
The endothelium has long been viewed not only as a monolayer of endothelial cells (EC) lining the lumen of all blood vessels to function as a protective biocompatible barrier between tissues and circulating blood, but also as a highly specialized, heterogeneous [1], dynamic, disseminated organ [2] with paracrine and autocrine functions which respond to alterations of hemodynamic forces and chemical stimuli. In its entirety, the endothelium is composed of 1 to 6 × 1013 EC covering a surface area of more than 1,000 square meters [3],[4]. Endothelial dysfunction is a systemic pathological condition, which can be defined as an imbalance between endothelium-dependent vasoconstriction and vasodilation. Endothelial dysfunction initiates a number of events that trigger EC activation, which predisposes the vessel wall to be stimulated by cardiovascular risk factors [5]. Specifically, endothelial dysfunction is associated with reduced nitric oxide (NO) production, increased reactive oxygen species (ROS) production, upregulation of cytokines and chemokines, decreased anticoagulant properties and enhanced platelet aggregation and leukocyte adherence. One related but more specific term known as endothelial activation is characterized by the upregulation of EC adhesion molecules such as intercellular adhesion molecule-1 (ICAM-1), vascular cell adhesion molecule-1 (VCAM-1) and increased secretion of cytokines and chemokines, which facilitates trans-EC migrations of monocytes, macrophages, dendritic cells, leukocytes, B cells, natural killer cells, and T cells [6]. Perturbations in EC functions play important roles in the development of several major diseases including cardiovascular diseases, metabolic syndrome, systemic inflammatory diseases, and sepsis [7].
Cytokines, including lymphocyte-generated lymphokines, monocyte-produced monokines, chemokines [
8
], interferons, interleukins, adipocyte-secreted adipokines [
9
] and muscle-generated myokines [
10
] act by binding to their specific receptors in concert with specific cytokine inhibitors and soluble cytokine receptors, to regulate innate and adaptive immune responses. They are produced by many types of cells such as vascular EC, in response to the stimulations caused by metabolite-related danger signal-associated molecular patterns (DAMPs) [
11
] and pathogen-associated molecular patterns (PAMPs) [
12
] that include bacterial endotoxins, injury, or inflammatory mediators [
13
]. Cytokines can be divided into pro-inflammatory and anti-inflammatory (immunosuppressive) cytokines. Anti-inflammatory cytokines may either inhibit pro-inflammatory cytokine synthesis or control pro-inflammatory cytokine-mediated cellular activities [
14
],[
15
]. Numerous reviews have been published on the roles of pro-inflammatory cytokines on eliciting endothelial dysfunction [
16
]-[
26
] and many pro-inflammatory cytokine antagonists have been developed. These new cytokine anta-gonists include:
a)
etanercept, infliximab, adalimumab and certolizumab pegol as tumor necrosis factor-α (TNF-α) antagonists;
b)
Sant1, Sant5, and Sant7 as inter-leukin-6 (IL-6) receptor superantagonists;
c)
anakinra as IL-1 receptor antagonist;
d)
IL-1 receptor antagonist (IL-1Ra) as IL-1α and IL-1α antagonists;
e)
IL-18BP as IL-18 antagonist, and
f)
soluble Endoglin as transforming growth factor-β (TGF-β) antagonist [
27
]. Potential the-rapeutic effects of these new inflammatory cytokine antagonists on endothelial dysfunction remain unclear. In addition, previous reports showed that anti-inflammatory cytokines IL-10, members of the TGF-β family, and pro-resolving lipid mediators (such as lipoxins, resolvins, and protectins) may suppress pro-inflammatory signaling [
28
]. Moreover, recent studies have shown that the spectrum of anti-inflammatory cytokinesis expanding [
29
], which may hold promise for developing potential novel therapeutics and tools for the diagnosis and management of diseases [
27
]. However, the roles of anti-inflammatory cytokines in endothelial dysfunction have not been extensively analyzed. Therefore, the protective effects of anti-inflammatory cytokines against endothelial dysfunction are the focus of this review (Figure
1
).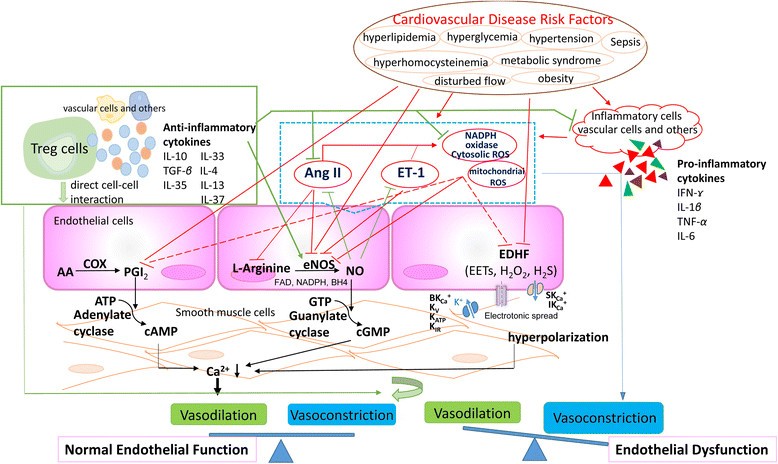 Conclusions
Endothelial dysfunction has been known as a well-established response to cardiovascular risk factors and precedes the development of cardiovascular diseases. Anti-inflammatory cytokines protect against the impairment of endothelial function by counteracting the effects of pro-inflammatory cytokines and suppressing oxidative stress. Further studies performed on the inhibitory properties of anti-inflammatory cytokines on endothelial dysfunction may provide novel promising therapeutic strategies for the treatment of cardiovascular diseases.
Authors' contribution
YS carried out the primary literature search and drafted the manuscript. ZC, XL, and VC provided material input and helped revising the manuscript. HW and XFY supervised the manuscript writing and provided field expertise. All authors read and approved the final manuscript.
Abbreviations
AA:

Arachidonic acid
Ach:

Acetylcholine
Ang II:

Angiotensin II
ATP:

Adenosine triphosphate
BH4:

Tetrahydrobiopterin
BKCa+:

Large-conductance channels
cAMP:

Cyclic adenosine monophosphate
cGMP:

Cyclic guanosine monophosphate
COX:

Cyclooxygenase
EC:

Endothelial cells
EDHF:

Endothelium-derived hyperpolarizing factor
EETs:

Eicosatrienoic acids
eNOS:

Endothelial nitric oxide synthase
ERK1/2:

Extracellular signal-regulated protein kinases 1 and 2
ET-1:

Endothelin-1
ETA:

Endothelin receptor type A
FAD:

Flavin adenine dinucleotide
GTP:

Guanosine triphosphate
GPCRs:

G-protein-coupled receptors
H2O2:

Hydrogen peroxide
ICAM-1:

Intercellular adhesion molecule-1
IFN-γ:

Interferon-γ
I-B:

Inhibitor of kappa B
IKCa+:

Intermediate-conductance channels
IL-1Ra:

IL-1 receptor antagonist
IL-10-/-:

IL-10 knockout
JAK:

JANUS kinase
K+:

Potassium ions
KATP:

ATP-sensitive K+(KATP) channels
KCa+:

Calcium dependent potassium channels Kir, inward rectifier K+ channels
Kv:

Voltage-dependent K+ channels
LPS:

Lipopolysaccharide
MAPK:

Mitogen-activated protein kinase
MiRNAs:

MicroRNAs
NADPH:

Nicotinamide adenine dinucleotide phosphate
NO:

Nitric oxide
O2−:

Superoxide anions
ONOO−:

Peroxynitrite
PI3K:

Phosphatidylinositol-3-kinase
PGI2:

Prostacyclin
ROS:

Reactive oxygen species
STAT:

Signal transducers and activators of transcription
SKCa+:

Small-conductance channels
SMC:

Smooth muscle cells
TGF-β:

Transforming growth factor-β
TNF-α:

Tumor necrosis factor-α
Treg:

Regulatory T cells
TXA2:

Thromboxane A2
VCAM-1:

Vascular cell adhesion molecule-1
Declarations
Acknowledgements
This work is partially supported by NIH grants to Drs. XF. Yang and H. Wang.
Authors' Affiliations
(1)
Department of Pharmacology, Center for Metabolic Disease Research and Cardiovascular Research Center, Temple University School of Medicine, Philadelphia, USA
(2)
Department of Microbiology and Immunology, Temple University School of Medicine, Philadelphia, USA
Copyright
© Shao et al.; licensee BioMed Central Ltd. 2014
This article is published under license to BioMed Central Ltd. This is an Open Access article distributed under the terms of the Creative Commons Attribution License (http://creativecommons.org/licenses/by/4.0), which permits unrestricted use, distribution, and reproduction in any medium, provided the original work is properly credited. The Creative Commons Public Domain Dedication waiver (http://creativecommons.org/publicdomain/zero/1.0/) applies to the data made available in this article, unless otherwise stated.