New antibody approaches to lymphoma therapy
Journal of Hematology & Oncology
2014
7:58
Received: 4 June 2014
Accepted: 29 July 2014
Published: 9 September 2014
Abstract
The CD20-directed monoclonal antibody rituximab established a new era in lymphoma therapy. Since then other epitopes on the lymphoma surface have been identified as potential targets for monoclonal antibodies (mAb). While most mAbs eliminate lymphoma cells mainly by antibody-dependent cellular cytotoxicity, complement-dependent cytotoxicity or direct cell death, others counter mechanisms utilized by malignant cells to evade immune surveillance. Expression of PD-L1 on malignant or stromal cells in the tumor environment for example leads to T-cell anergy. Targeting either PD-1 or PD-L1 via mAbs can indirectly eliminate cancer cells by unblocking the host intrinsic immune response. Yet another mechanism of targeted therapy with mAbs are bi-specific T-cell engagers (BiTE) such as blinatumomab, which directly engages the host immune cells. These examples highlight the broad spectrum of available therapies targeting the lymphoma surface with mAbs utilizing both passive and active immune pathways. Many of these agents have already demonstrated significant activity in clinical trials. In this review we will focus on novel CD20-directed antibodies as well as mAbs directed against newer targets like CD19, CD22, CD40, CD52 and CCR4. In addition we will review mAbs unblocking immune checkpoints and the BiTE blinatumomab. Given the success of mAbs and the expansion in active and passive immunotherapies, these agents will play an increasing role in the treatment of lymphomas.
Keywords
Bispecific T-cell engagerCd-20Pd-1Cd-22MonoclonalLymphomaAntibodies
Introduction
In 1997 the CD20-directed monoclonal antibody (mAb) rituximab became the first mAb approved for the treatment of lymphoma after it demonstrated significant single agent activity in indolent B-cell lymphomas [1]. Since then rituximab has become an indispensable component in the treatment of all types of B-cell Non-Hodgkin lymphomas (NHL), both alone and in combination with chemotherapeutic agents [2].
While rituximab can lead to direct cytotoxicity by induction of apoptosis, it also eliminates lymphoma cells by antibody-dependent cellular cytotoxicity (ADCC) and complement-dependent cytotoxicity [3]. Its success has spawned an immense interest in using the hosts' immune system in selectively targeting tumor cells by attacking tumor-specific surface antigens. These surface epitopes represent ideal targets as they allow effective anticancer therapy while relatively sparing normal tissues.
mAbs represent the cornerstone of passive immunotherapy, which involves engineering of B or T cell receptors targeting a desired antigen and infusion into patients with disease. Methods to potentially increase their efficacy include conjugation of mAbs with potent cell toxin or radioisotopes, exemplified by antibody-drug conjugates (ADC) and radioimmunotherapy (RIT) respectively. Another more recent mode of passive immunotherapy is termed adoptive T-cell transfer: autologous T-cells with genetically modified T-cell receptors (chimeric antigen receptors; CARs) that specifically recognize a tumor epitope are reinfused and exert their newly acquired antilymphoma potency in the host [4]. BiTEs or bispecific T cell engagers are also examples for newer passive therapy that activates T cell destruction of lymphoma cells.
Active immunotherapy on the other hand enables the patient's own immune system to re-engage into recognizing malignant cells which originally escaped immune surveillance. The classical example for active immunotherapy is tumor vaccines. More recently antibodies directed against CTLA4 or the PD-1/PD-L1 pathway, which unblock immune checkpoints, have demonstrated significant antitumor activity [3].
This review focuses on recent advances in targeting the lymphoma surface directly or indirectly with mAbs representative of active and passive immunotherapies (Figure
1
), and agents that have either just reached the clinical practice or hold promise to change standard of care. Lymphoma therapy with ADCs, RIT, vaccines or adoptive T-cell transfer is reviewed elsewhere [
3
],[
5
]-[
7
].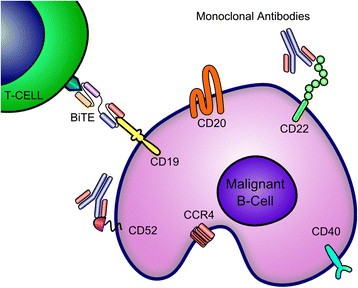 Conclusion
Tremendous advances have been made in targeting the lymphoma surface. Initially only seen as a way to more precisely target tumors, actively harnessing the ability of the patients' own immune system in the fight against cancer is revolutionizing therapy. This involves rethinking current treatment paradigms in terms of response assessment [123] and side effect management. Unleashing the immune system can result in never-before encountered side effects. While results are promising, one remaining challenge is to identify which patient will respond to immunotherapy. Nevertheless, next to the classical modalities surgery, radiation, chemotherapy, and more recently molecularly targeted therapies, many regard immunotherapy now as the fifth pillar of oncology [124].
Authors' information
SKB is an assistant professor of medicine and part of the lymphoma team at Fox Chase Cancer Center.
Abbreviations
mAB:

Monoclonal antibodies
NHL:

Non Hodgkin's lymphoma
ADCC:

Antibody dependent cellular cytotoxicity
ADC:

Antibody drug conjugates
RIT:

Radioimmunotherapy
CaRs:

Chimeric antigen receptors
BiTEs:

Bispecific t-cell engagers
CDC:

Complement dependent cytotoxicity
RR:

Response rates
PFS:

Progression free survival
CR:

Complete response
ORR:

Overall response rate
DLBCL:

Diffuse large b-cell lymphoma
MCL:

Mantle cell lymphoma
ADP:

Antibody dependent phagocytosis
FCR:

Fludaribine + cyclophosphamide + rituximab
O-FC:

Fludarabine + cyclophosphamide
CIT:

Chemoimmunotherapy
FL:

Follicular lymphoma
R/R:

Relapsed/refractory
Ig:

Immunoglobulin
SLL:

Small lymphocytic lymphoma
BCR:

B-cell receptor
HL:

Hodgkin's lymphoma
SD:

Stable disease
MZ:

Marginal zone lymphoma
TCL:

T cell lymphomas
PTCL:

Peripheral t cell lymphoma
TCL (CTCL):

Advanced cutaneous
Treg:

Regulatory t cells
ATLL:

Adult T cell leukemia/lymphoma
PD-1:

Programmed cell death 1
NK:

Natural killer
AML:

Acute myeloid leukemia
MM:

Multiple myeloma
ASCT:

Autologous stem cell transplant
Authors' Affiliations
(1)
Montefiore Medical Center/Albert-Einstein College of Medicine, Bronx, USA
(2)
Fox Chase Cancer Center, Philadelphia, USA
Copyright
© Suresh et al.; licensee BioMed Central Ltd. 2014
This article is published under license to BioMed Central Ltd. This is an Open Access article distributed under the terms of the Creative Commons Attribution License (http://creativecommons.org/licenses/by/4.0), which permits unrestricted use, distribution, and reproduction in any medium, provided the original work is properly credited. The Creative Commons Public Domain Dedication waiver (http://creativecommons.org/publicdomain/zero/1.0/) applies to the data made available in this article, unless otherwise stated.