Targeting p53 by small molecules in hematological malignancies
Journal of Hematology & Oncology
2013
6:23
Received: 5 February 2013
Accepted: 13 March 2013
Published: 27 March 2013
Abstract
p53 is a powerful tumor suppressor and is an attractive cancer therapeutic target. A breakthrough in cancer research came from the discovery of the drugs which are capable of reactivating p53 function. Most anti-cancer agents, from traditional chemo- and radiation therapies to more recently developed non-peptide small molecules exert their effects by enhancing the anti-proliferative activities of p53. Small molecules such as nutlin, RITA, and PRIMA-1 that can activate p53 have shown their anti-tumor effects in different types of hematological malignancies. Importantly, nutlin and PRIMA-1 have successfully reached the stage of phase I/II clinical trials in at least one type of hematological cancer. Thus, the pharmacological activation of p53 by these small molecules has a major clinical impact on prognostic use and targeted drug design. In the current review, we present the recent achievements in p53 research using small molecules in hematological malignancies. Anticancer activity of different classes of compounds targeting the p53 signaling pathway and their mechanism of action are discussed. In addition, we discuss how p53 tumor suppressor protein holds promise as a drug target for recent and future novel therapies in these diseases.
Keywords
Hematological malignanciesLeukemiaLymphomaMyelomap53NutlinRITAPRIMA-1MIRA-1Apoptosis
Introduction
p53, 'guardian of the genome', was the first tumor suppressor gene to be identified in 1979. p53 functions to eliminate and inhibit the proliferation of abnormal cells, thereby preventing tumor development [1–4]. The human p53 gene is located on chromosome 17p and consists of 11 exons and 10 introns [5]. The central role of p53 in the cells suggests that the loss of p53 function may have severe consequences. The p53 function is lost in an estimated 50% of human cancers by mutations or deletions in p53 gene [6]. The frequency of mutation in p53 is, however, lower in hematological cancers than in solid tumors [7–12]. For example, TP53 is mutated in 10-20% of cases of chronic lymphocytic leukemia (CLL) [7, 8], 3-8% of cases of acute myeloid leukemia (AML) [8], less than 3% in acute lymphoblastic leukemia (ALL) [9], and 10-12% cases of multiple myeloma (MM) [10–12]. Importantly, in hematological malignancies, deletion/mutation of p53 is associated with high risk i.e., more aggressive disease, worse overall survival and resistance to therapies [7–13]. In the presence of wild type p53 other mechanisms may affect the expression and activity of p53 which include elevated expression of the negative regulators of p53, murine double minute 2 (MDM2) [14–20]. MDM2 is transcriptionally activated by the binding of p53 to a p53-responsive element within its gene. It then binds to the N-terminal region of p53, thereby preventing p53 from interacting with the transcriptional machinery and inducing its degradation [15, 18, 20–23].
There are evidences that many anti-cancer drugs induce apoptosis through multiple pathways that are at least in part dependent upon p53 activation [
16
–
23
]. Attempts have been made to develop strategies based on the small molecules to specifically modulate the activity of p53 proteins. These approaches can be classified into two categories: those that aim at modulating the activity of wild-type p53 (Figure
1
A) and those that aim at restoring wild-type functions in cells expressing mutant p53 (Figure
1
B). The small molecules have been identified by either cellular or protein assays [
20
–
23
]. The cellular approach involves screening to identify compounds which can cause tumor cell death. An advantage of this approach is that the compounds identified e.g., nutlin, RITA (Reactivation of p53 and induction of tumor cell apoptosis) and PRIMA-1 (p53 reactivation and induction of massive apoptosis) have a desired biological outcome such as apoptosis and rarely display genotoxicity [
24
–
27
]. However, it is difficult to elucidate their exact molecular mechanism for apoptosis. On the other hand, a protein based approach can identify compounds e.g., CP-31398 that directly affect a target protein. But the compounds may be toxic or may not have adequate bioavailability [
27
–
31
]. A number of small molecules with activities fitting within these two categories have been identified and some of those have already progressed to advanced preclinical development or early-phase (phase I/II) clinical trials (Table
1
). In this review we will describe all of these aspects of targeting p53 in hematological malignancies.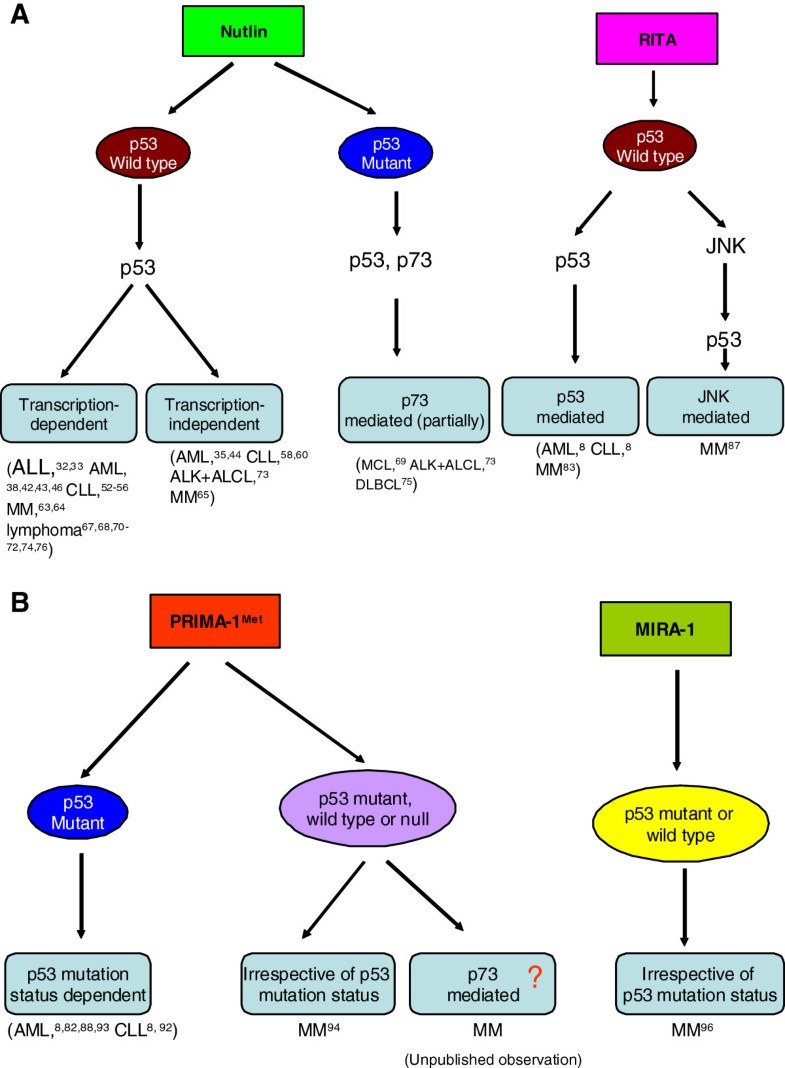 Table 1
Small molecules used for targeting p53 in various hematoloigcal malignancies
| Hematological malignancy | Small molecule | Potential target |
| --- | --- | --- |
| Leukemia | | |
| ALL | Nutlin | MDM232-34 |
| | RITA | p5382 |
| | JNJ-26854165 | p53, E2F199 |
| AML | *Nutlin | MDM235,38,42,43,46 |
| | MI-219 | MDM248 |
| | RITA | p538 |
| | *PRIMA-1 | p538,82,88,93 |
| | JNJ-26854165 | p53, E2F199 |
| CLL | Nutlin | MDM254-56,58-60 |
| | RITA | p538 |
| | PRIMA-1 | p538,92 |
| CML | Nutlin | MDM261,62 |
| | MI-219 | MDM261 |
| Lymphoma | | |
| HL | Nutlin | MDM267,68 |
| MCL | Nutlin | MDM269-72 |
| Birkitt's lymphoma | Nutlin | MDM276 |
| B Cell lymphoma | MI-219 | MDM274 |
| Follicular lymphoma | MI-319 | MDM278 |
| Myeloma | Nutlin | MDM263-65 |
| | RITA | p5384, JNK87 |
| | PRIMA-1Met | p53, p7394 |
| | MIRA-1 | p5396 |
| | Halofuginone | p5397 |
Declarations
Acknowledgements
This study was supported by grants in part from Leukemia and Lymphoma Society, Canada, Gan-Po 555 project, Jiangxi, China, and open grant from national key lab for experimental hematology (project zk-1102).
Authors' Affiliations
(1)
Division of Molecular and Cellular Biology, Toronto General Research Institute, Toronto, Canada
(2)
Dept. of Laboratory Medicine & Pathobiology, University of Toronto, Toronto, Canada
(3)
Institute of Hematology and Blood Disease Hospital, Chinese Academy of Medical Sciences and Peking Union Medical College, Tianjin, China
(4)
Dept. of Laboratory Hematology and Medical Oncology, University Health Network, Toronto, Canada
Copyright
© Saha et al.; licensee BioMed Central Ltd. 2013
This article is published under license to BioMed Central Ltd. This is an Open Access article distributed under the terms of the Creative Commons Attribution License (http://creativecommons.org/licenses/by/2.0), which permits unrestricted use, distribution, and reproduction in any medium, provided the original work is properly cited.