Alterations in the ribosomal machinery in cancer and hematologic disorders
Journal of Hematology & Oncology
2012
5:32
Received: 23 April 2012
Accepted: 18 June 2012
Published: 18 June 2012
Abstract
Ribosomes are essential components of the protein translation machinery and are composed of more than 80 unique large and small ribosomal proteins. Recent studies show that in addition to their roles in protein translation, ribosomal proteins are also involved in extra-ribosomal functions of DNA repair, apoptosis and cellular homeostasis. Consequently, alterations in the synthesis or functioning of ribosomal proteins can lead to various hematologic disorders. These include congenital anemias such as Diamond Blackfan anemia and Shwachman Diamond syndrome; both of which are associated with mutations in various ribosomal genes. Acquired uniallelic deletion of RPS14 gene has also been shown to lead to the 5q syndrome, a distinct subset of MDS associated with macrocytic anemia. Recent evidence shows that specific ribosomal proteins are overexpressed in liver, colon, prostate and other tumors. Ribosomal protein overexpression can promote tumorigenesis by interactions with the p53 tumor suppressor pathway and also by direct effects on various oncogenes. These data point to a broad role of ribosome protein alterations in hematologic and oncologic diseases.
Keywords
RibosomeMDSAnemia
Introduction
Eukaryotes have 80 S ribosomes, each consisting of a small (40 S) and large (60 S) subunit. The large subunit is composed of a 5 S RNA (120 nucleotides), a 28 S RNA (4700 nucleotides), a 5.8 S subunit (160 nucleotides) and approximately 49 proteins. The 40 S subunit has a 18 S RNA (1900 nucleotide) and approximately 33 proteins.
The biogenesis of the ribosome machinery is a highly coordinated process. It is composed of the synthesis and processing of ribosomal RNA (28SRNA, 18SRNA and 5.8SRNA in the nucleolus and 5SRNA in the nucleoplasm), synthesis of ribosomal proteins in the cytoplasm and their import into the nucleus, assembly of rRNA and ribosomal proteins in the nucleoplasm and finally transport of the mature subunits (40 S and 60 S) into the cytoplasm.
The basic translation machinery is composed of ribosomal subunits, mRNAs, transfer RNAs (tRNAs), and translational initiation and elongation factors. First, the initiation factors eIF2, eIF3, tRNA and GTP are incorporated into a 40 S ribosomal subunit to form a 43 S complex. Second, eIF4E is recruited into the 43 S complex to form a 48 S complex with mRNA. Finally, a 60 S ribosomal subunit and the 48 S subunit form the final 80 S complex [1].
Both ribosomal proteins and ribosomal RNA have important functional roles
The relative functional significance of the rRNAs and the ribosomal proteins has been a matter of interest for many years. In the 1970s, it was generally accepted that ribosomal proteins constituted the functionally active part of the ribosome, whereas rRNA was essentially a scaffold that kept the proteins in position for optimal functioning. By the 1980s, the pendulum had swung, with ribosomal proteins thought to be the scaffolding for the rRNA. The reason for this change was the discovery of catalytic RNA and data showing the direct involvement of rRNAs in distinct ribosomal functions, for example, the Shine-Dalgarno interactions between mRNA and rRNA during initiation of bacterial protein synthesis, as well as the predominance of rRNA at the decoding and peptidyl-transferase centre (PTC) of the ribosome. The crystal structures of the ribosome confirmed this predominance of rRNA at these active sites, but also revealed that a number of ribosomal proteins were located in positions of functional importance, for example, RPS12 at the decoding center, RPL11 and RPL10 as components involved in translation factor binding. Over the years, specific functions of many individual ribosomal proteins were identified and currently it is accepted that both proteins and RNA are essential for the optimal functioning of the ribosome.(Wilson, D. N. and Nierhaus, K. H. 2006).
Futhermore, several ribosomal proteins have been found to have extraribosomal functions including DNA repair; autoregulation of ribosomal protein synthesis and translation and regulation of development of malignant transformation mainly through interaction with p53. In E.coli, in addition to these functions, ribosomal proteins have been found to play a role in DNA replication, transcription and RNA processing [2, 3]. The involvement of these extraribosomal functions in the pathogenesis of ribosomopathies and cancer is reviewed in this article.
Mutations or deletions of ribosomal proteins can result in ribosomopathies (summarized in Table 1)
Table 1
Salient features of various ribosomopathies
| SYNDROME | GENE INVOLVED | CLINICAL FEATURES | LABORATORY FEATURES |
| --- | --- | --- | --- |
| DIAMOND BLACK- FAN ANEMIA | RPS 19 (25%); RPS 24; RPS 17; RPL35A; RPL5; RPL11; RPS 10; RPS 26 | Craniofacial defects; pallor; short stature; thumb abnormalities | Macrocytic anemia; elevated HbF levels; elevated ADA; parvovirus B19 seropositivity (50% by age 15) |
| SHWACHMAN DIAMOND SYNDROME | SBDS 7q11. 21 (90%) | Recurrent infections; pancreatic insufficiency; short stature; increased risk of malignancy (AML, MDS); increased risk of CVID | Neutropenia; thrombocytopenia; aplastic anemia; neutrophil chemotaxis defect; low immunoglobulins; low B cells |
| CARTILAGE HAIR HYPOPLASIA | RMRP (RNase Mitochondroal RNA processing) gene | Short limbed dwarfism; metaphyseal chondrodysplasia; hypoplastic hair; recurrent infectiions (Pneumocystis, CMV) | Neutropenia; lymphopenia; hypogammaglobulinemia; defective B cells; reduced T cell count |
| TREACHER COLLINS SYNDROME | TREACLE GENE (TCOF1 mutations) | Craniofacial abnormalities (micrognathia, ear deformities, macrostomia, hearing loss, anti-mongoloid slant) | Anemia; T cell abnormalities; hypogammaglobulinemia |
| DYSKERATOSIS CONGENITA | DKC1 at chr.X q28 | Nail dystrophy; reticulated skin pigmentation; oral leukoplakia; infections; liver, lung fibrosis | Reduced telomere length; low IgM and B cell count |
| 5q- SYNDROME | RPS14 | Pallor; progression to AML (10%) | Macrocytic anemia |
| TURNER SYNDROME | HAPLOINSUFFICIENCY OF RPS4X HYPOTHESIS | Short stature; webbed neck; gonadal dysgenesis; mental retardation; CVS malformations | 45XO karyotype; hypogammaglobulinemia; low T cell count; CVID |
Ribosomopathies are disorders resulting from impaired ribosome biogenesis and function. Diamond-Blackfan anemia and 5q- syndrome are the two clinical syndromes for which there is abundant genetic and experimental evidence that the impairment in erythropoiesis is due to mutations in ribosomal genes. However, there are a few other clinical syndromes in which ribosome dysfunction is thought to play a role and recently, ribosomal dysfunctions have been identified in some malignancies as well.
Ribosomal protein disorders associated with malignancies
Functional relevance of ribosomal proteins in tumorigensis
1.

Protein biosynthesis function of ribosomal proteins in cancer: Both tumor suppressors and oncogenes have been shown to modulate the ribosome protein biosynthesis as well as ribosome translation initiation in various models [59].. MYC, a proto-oncogene product, regulates the mature ribosome biogenesis by modifying the genes of necessary factors involved in ribosomal assembly. Its overexpression in tumor cells increases the expression and activity of ribosomal components. Therefore, regulation of protein synthesis could be an important mechanism by which MYC regulates cell growth and initiates tumorigenesis [60]. PTEN, a tumor suppressor, also regulates the mature ribosome formation, by suppressing the activity of RPS6K [61]. These data suggest that perturbation in the protein biosynthesis fuction of ribosomal proteins may be an important contributor to carcinogenesis.

2.

Interaction of p53 with ribosomal proteins: Likely mechanism involved in some features of ribosomopathies and associations between ribosomal proteins and cancer.A number of events, including haploinsufficiency of some ribosomal proteins, impart instability to ribosomal biogenesis and cause nucleolar stress. In response to this stress, some ribosomal proteins (RPL5, RPL11, RPL23, RPS7 and RPL26) bind to MDM2 and block MDM2-mediated p53 ubiquitination and degradation, resulting in p53-dependent cell cycle arrest. By doing so, the ribosomal proteins play a crucial role in connecting deregulated cell growth with inhibition of cell division. The ribosomal protein-MDM2-p53 signalling pathway provides a molecular switch that may constitute a surveillance network monitoring the integrity of ribosomal biogenesis [62]. (Figure 1) In the Rps19 mutant mouse model used to study DBA, induction of p53 and p53 target genes was identified with the mutation. These mice had decreased hematocrit and increased MCV and phenocopied the human disease. The anemia observed in these mice was partially abrogated with monoallelic inactivation of p53. Homozygous inactivation of p53 in Rps19 mutant mice fully corrected the hematologic abnormality [63]. Furthermore, when the mice with the conditional deletion of a set of genes found in the common deleted region of the 5q- syndrome were crossed with p53 null mice, there was a complete rescue of the erythroid phenotype [19]. These findings indicate that p53 induction is critical for the macrocytic anemia caused by ribosomal dysfunction. P53 activation can also mediate tumor cytotoxicity mediated by reduction in levels of certain ribosome proteins. Decreased levels of RPS9 lead to growth inhibition in osteosarcoma cell lines. It has been shown that depletion of RPS9 provokes a rapid loss of the nucleolar protein pool, impaired production of mature 18 S ribosomal RNA and activation of the p53 tumor suppressor pathway. The combination of a defective ribosome biogenesis pathway and p53 activation results in unexpectedly strong anti-proliferative responses in human tumor cell lines [64]. While decreased expression of some ribosomal proteins can activate p53 as part of a cellular stress response, it is also evident that some other ribosomal proteins have direct and more specific roles in p53 mRNA translation. Haploinsufficiency of a subset of r-proteins (L35, S15a, S8, L36, L7, S7, L13, S29, L23a) in zebrafish is linked to the development of malignant peripheral nerve sheath tumors. Interestingly, these nerve sheath tumors fail to produce p53 protein, despite presence of p53 mRNA [65]. Moreover, RPL26 plays a role in enhancing p53 mRNA translation during the DNA damage response by direct interactions with both MDM2 protein and p53 mRNA [66].Hence, ribosomal proteins have more dynamic roles in regulating the p53 tumor suppressor pathway than was previously thought and this complex interaction appears to be the most significant extraribosomal function of the ribosomal proteins, through which they exert an effect on the cell cycle and apoptosis. It could explain not only some features of ribosomopathies (particularly DBA and 5q- syndrome) but may also have a significant role in carcinogenesis (as elicited in the RPS9 silencing study).

3.

Non p53 mediated extraribosomal functions of ribosomal proteins in cancer:There is some evidence showing that other extraribosomal function of ribosomal proteins may also be directly involved in tumorigenesis. RPs can directly regulate the affect of oncogene and tumor suppressors on DNA replication, transcription and translation. The recombination of human trk proto-oncogene with RPL7a activates its oncogenic function [67]. RPS29, whose mRNAs is much higher in quiescent cells than that in growth phase of endothelial cells, has tumor suppressor activity for ras transformed NIH3T3 cells [68]. On the other hand, the overexpression of RPS3a gene has been shown to promote tumorigenesis in nude mice works via suppression of apoptosis by inducing synthesis of anti-apoptosis proteins [69]. These studies indicate that extraribosomal functions of distinct ribosomal proteins may also regulate tumorigenesis.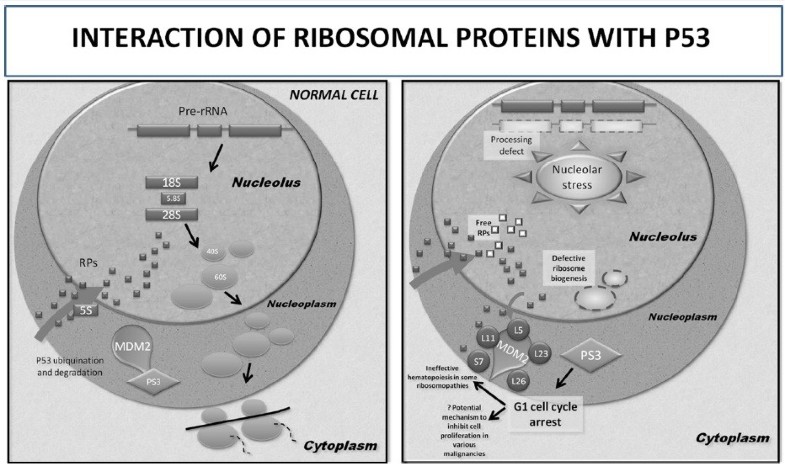 Conclusions
Ribosomal protein dysfunction has been shown to be associated with the haematological manifestations of Diamond Blackfan Anemia, 5q- syndrome and facial features of Treacher-Collins syndrome (and possibly that of DBA as the facial features of the two conditions are very similar). Interestingly, all these features have been shown to be caused by a deranged RP-MDM2-p53 pathway. Development of therapeutic targets against this pathway could possibly reverse the hematological manifestations. In Cartilage Hair Hypoplasia, Shwachman Diamond syndrome and Dyskeratosis Congenita, although there are significant ribosomal dysfunctions found, there still remains a small doubt whether they are causally associated with the conditions, particularly given the fact that the genes involved have other functions, which could also explain the clinical manifestations.
Ribosomal protein disorders in malignancies seem to be more complex. Perturbation in extraribosomal functions of ribosomal proteins seems to be directly involved in tumorigenesis and deranged ribosomal function seems to be the consequence or an associated feature. While some ribosomal proteins have been shown to exert a direct effect on proto-oncogenes and tumorigenesis, others interact directly or indirectly with the p53 tumor suppressor pathway. Further mechanistic studies will reveal distinct sets of ribosomal proteins that are deranged in specific malignancies and will potentially uncover newer therapeutic targets.
Authors' Affiliations
(1)
Albert Einstein College of Medicine, Bronx, USA
Copyright
© Shenoy et al.; licensee BioMed Central Ltd. 2012
This article is published under license to BioMed Central Ltd. This is an Open Access article distributed under the terms of the Creative Commons Attribution License (http://creativecommons.org/licenses/by/2.0), which permits unrestricted use, distribution, and reproduction in any medium, provided the original work is properly cited.