ALK-positive diffuse large B-cell lymphoma: report of four cases and review of the literature
Journal of Hematology & Oncology
2009
2:11
Received: 20 January 2009
Accepted: 27 February 2009
Published: 27 February 2009
Abstract
Background
Anaplastic lymphoma kinase-positive diffuse large B-cell lymphoma (ALK-DLBCL) is a rare lymphoma with several clinicopathological differences from ALK-positive anaplastic large cell lymphoma (ALCL). The latest WHO classification of lymphomas recognizes ALK-DLBCL as a separate entity.
Methods
A comprehensive comparison was made between the clinical and pathological features of the 4 cases reported and those found in an extensive literature search using MEDLINE through December 2008.
Results
In our series, three cases were adults and one was pediatric. Two cases had primary extranodal disease (multifocal bone and right nasal fossa). Stages were I (n = 1), II (n = 1), III (n = 1) and IV (n = 1). Two cases had increased LDH levels and three reported B symptoms. IPI scores were 0 (n = 1), 2 (n = 2) and 3 (n = 1). All cases exhibited plasmablastic morphology. By immunohistochemistry, cases were positive for cytoplasmic ALK, MUM1, CD45, and EMA; they marked negative for CD3, CD30 and CD20. Studies for EBV and HHV-8 were negative. The survival for the patients with stage I, II, III and IV were 13, 62, 72 and 11 months, respectively.
Conclusion
ALK-DLBCL is a distinct variant of DLBCL with plasmacytic differentiation, which is characterized by a bimodal age incidence curve, primarily nodal involvement, plasmablastic morphology, lack of expression of CD20, aggressive behavior and poor response to standard therapies, although some cases can have prolonged survival as the cases reported in this study. ALK-DLBCL does not seem associated to immunosuppression or the presence of EBV or HHV8. Further prospective studies are needed to optimize therapies for this entity.
Keywords
Epstein Barr Virus
Hematopoietic Stem Cell Transplantation
Thrombotic Thrombocytopenic Purpura
Anaplastic Large Cell Lymphoma
Primary Effusion Lymphoma
Background
DLBCL is the most common histological variant of NHL. It encompasses multiple subtypes and has heterogeneous clinical and pathological features. In 1997, Delsol and colleagues reported seven cases of a distinct variant of DLBCL expressing rearrangements of the ALK gene [1]. The plasmablastic appearance and CD20-negativity of ALK-DLBCL makes this entity a potentially diagnostic challenge with a broad differential diagnosis. Clinically, ALK-DLBCL shows very aggressive behavior, high relapse rate and lack of response to standard regimens.
Although in the initial report by Delsol and colleagues the classic ALK gene rearrangement observed in ALCL could not be shown [1], modern techniques have been able to prove recurrent chromosomal abnormalities in ALK-DLBCL. The most commonly observed cytogenetic abnormality is t(2;17)(p23;q23) or clathrin/ALK [2–10]. The classic ALCL-related t(2;5)(p23;q35) or nucleophosmin/ALK has also been described [11–13]. Other rare cytogenetic abnormalities have been reported [14, 15].
The main objective of this study was to describe the clinicopathological characteristics of four additional cases of ALK-DLBCL and compare them with those of 46 literature-reported cases.
Materials and methods
Four cases of ALK-DLBCL were identified from the Hematology and Medical Oncology consultation files at the Edgardo Rebagliati Martins Hospital in Lima, Peru between January 1, 1997 and June 30, 2008. Clinical and laboratory information for each of the four patients was obtained through physician interview and medical chart review, after approval of this study by the IRB. Routine hematoxylin and eosin-stained sections were prepared from formalin-fixed and/or B5-fixed paraffin blocks. Immunohistochemical analysis included a broad panel of antibodies against ALK1 (Dako, Carpinteria, CA; dilution 1:50), CD45 (Dako; dilution 1:400), CD4 (Novocastra, Newcastle upon Tyne, UK; dilution 1:20), CD56 (Sanbio, Uden, The Netherlands; 1:200), CD20 (Dako; dilution 1:100), CD79a (Dako; dilution 1:25) and light chains of immunoglobulin. The samples were also stained for CD30 (Novocastra; dilution 1:100) and EMA (Dako; dilution 1:50), which are usually expressed by ALCL cells.
Immunohistochemical studies for Epstein Barr virus (EBV) and human herpesvirus 8 (HHV-8) were performed at the Department of Pathology of the Rhode Island Hospital in Providence, RI. EBV clone was CS1-4 (Dako; dilution 1:500) obtained through heat retrieval pretreatment with Target Retrieval solution (Dako) for 25 minutes. HHV8 clone was 13B10 (Vector Laboratories, Burlingame, CA; dilution 1:50) obtained through heat retrieval pretreatment with Target Retrieval solution (Dako) for 25 minutes. Cytogenetic studies by FISH looking for ALK gene rearrangement were performed at the Department of Cytogenetics of the Tufts Medical Center in Boston, MA. The immunohistochemical analysis for HHV-8 and cytogenetic studies were performed in only two of the present cases. Further studies could not be attempted on the other two cases due to lack of available remaining specimen.
For the review, we performed a literature search using Pubmed/MEDLINE looking for articles reporting clinicopathological data in patients with ALK-DLBCL through December 2008. Eighteen articles were considered for this review. Data were gathered on age, sex, pattern of ALK expression, ALK gene rearrangement variety, expression of CD30, CD45, plasma cell, B-cell, T-cell and NK-cell markers, EMA and light chain, heavy chain gene and T-cell receptor gene rearrangements, presence of EBV, site of primary disease, clinical stage, LDH levels, IPI score, therapy at presentation and at relapse, outcome, survival in months and cause of death. Survival analyses were attempted using Kaplan-Meier estimates for age, sex, T-cell marker expression, primary site of presentation, clinical stage, LDH levels and IPI score. All reported p-values are two-sided.
Results
Case Reports
A summary of the clinical features of the four patients is provided in Table
1
.
Table 1
Clinical characteristics of the reported cases
| Case | Age | Sex | Primary site | Bone marrow involvement | Stage | IPI | Therapy | Survival (Months) | Outcome |
| --- | --- | --- | --- | --- | --- | --- | --- | --- | --- |
| 1 | 27 | M | Bone | Yes | IVB | 3 | HyperCVAD | 11 | Alive, with disease |
| 2 | 41 | F | Nasal fossa | No | IA | 0 | Radiotherapy | 13 | Alive, NED |
| 3 | 13 | F | Cervical LN | No | IIB | 2 | LNH96-2002 | 62 | Alive, NED |
| 4 | 70 | M | Cervical LN | No | IIIB | 3 | CHOP | 72 | Alive, NED |
Case 1
A 27-year-old male patient presented with multifocal bone lesions detected with bone scintigraphy. Patient also reported the presence of B symptoms. LDH levels were elevated. Serum protein electrophoresis (SPEP) did not show a monoclonal spike. A computed tomography (CT) scan of the thorax and abdomen showed no mass lesions or additional lymphadenopathy. An incisional biopsy of bone was performed, which showed a diffuse lymphoma of plasmablastic appearance. A staging bone marrow aspiration and biopsy was positive for involvement by lymphoma. Patient was staged as IVB and underwent six cycles of EPOCH (cyclophosphamide, vincristine, doxorubicin, etoposide and prednisone) with persistent bone marrow infiltration at the end of the initial therapy. He is currently receiving hyperCVAD (hyperfractionated cyclophosphamide, vincristine, doxorubicin and dexamethasone alternating with cytarabine and methotrexate). At 11 months, he was alive with persistent disease.
Case 2
A 41-year-old male patient presented with history of nasal obstruction for one month. He was otherwise asymptomatic with an excellent performance status and had no significant past medical history. Hematologic, basic metabolic, liver function studies and LDH levels were within normal limits. SPEP did not show monoclonal spike. CT scan of the head, neck, chest, abdomen and pelvis revealed only a mass in the right nasal fossa. Biopsy of tumor was performed revealing a tumor with plasmablastic morphology. Staging bone marrow was negative. Due to an initial diagnosis of solitary plasmacytoma, patient received involved field radiation therapy. At 13 months, he was alive and free of disease.
Case 3
A 13-year-old female patient presented with a rapidly enlarging left neck mass and B symptoms. Physical examination and radiological studies showed axillary and mediastinal lymph nodes and costal bone involvement. A biopsy of the cervical mass was performed and revealed an aggressive lymphoma with plasmablastic features. Bone marrow biopsy was negative for lymphoma. SPEP was not performed. She received the regimen LNH96-2002, which is based on induction with vincristine, prednisone, cyclophosphamide, daunorubicin, L-asparaginase and methotrexate; followed by consolidation based on cyclophosphamide, cytarabine, methotrexate then intensification with vincristine and doxorubicin and maintenance based on methotrexate and mercaptopurine. She had a complete response to the induction phase and then received consolidation and maintenance. She has 62 months alive and free from recurrence.
Case 4
A 70-year-old male patient presented with cervical, axillary and inguinal lymphadenopathy without B symptoms. Bone marrow was not involved. He had a performance status of 2. Cervical lymph node biopsy was done showing a diffuse lymphoma with plasmablastic appearance. LDH levels were within normal limits. SPEP was not performed. Patient was considered stage IIIB. IPI score was 3 out of 5. He received CHOP-21 regimen for six cycles and achieved a complete response. He is alive with 72 months free from recurrence.
Pathological aspects of the reported cases
All four cases showed plasmablastic morphologic features with effacement of the normal architecture by sheets of tumor cells. The neoplastic cells in all cases were large with round, regular, with centrally located nuclei, dispersed chromatin, single central, prominent nucleolus, and moderate eosinophilic or amphophilic cytoplasm. Table
2
provides a summary of the immunohistochemical characteristics in the four reported cases. All tested cases were positive for CD45, MUM1 (Figure
1
), and EMA (Figure
2
), and were negative for CD4, CD20 (Figure
3
) and CD30. All cases were positive for ALK in a granular cytoplasmic distribution (Figure
4
), which has been described in clathrin/ALK-associated cases. FISH by standard methods was unsuccessful as the examined pathological samples were decalcified causing excessive background autofluorescence.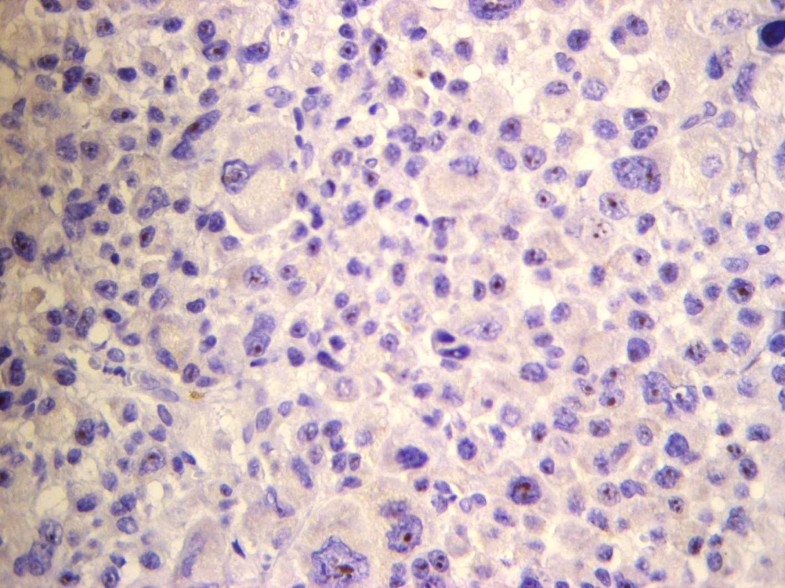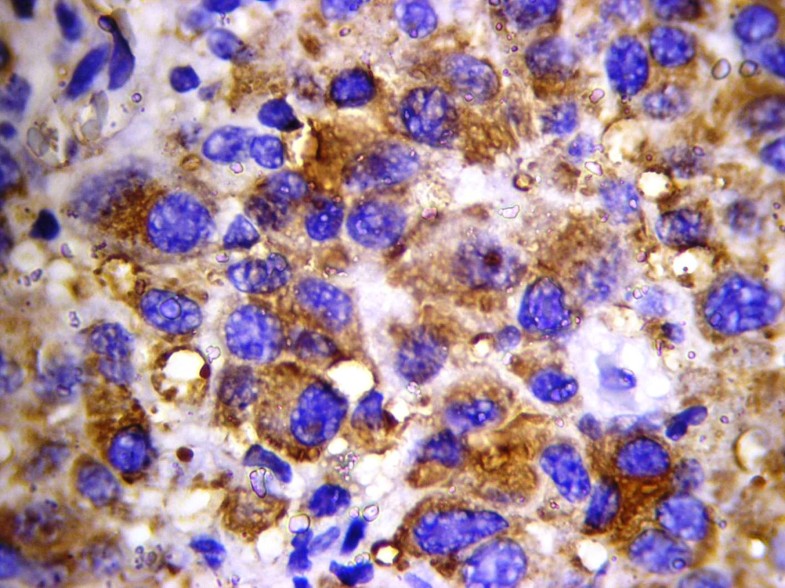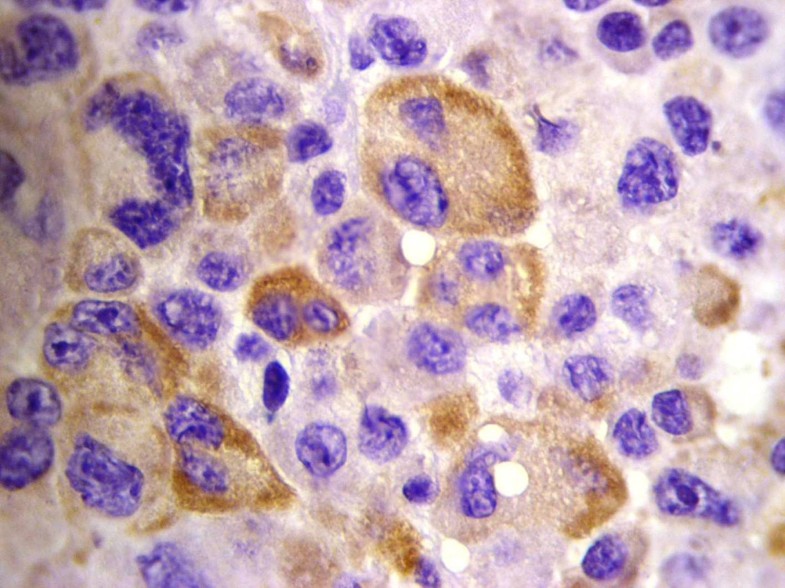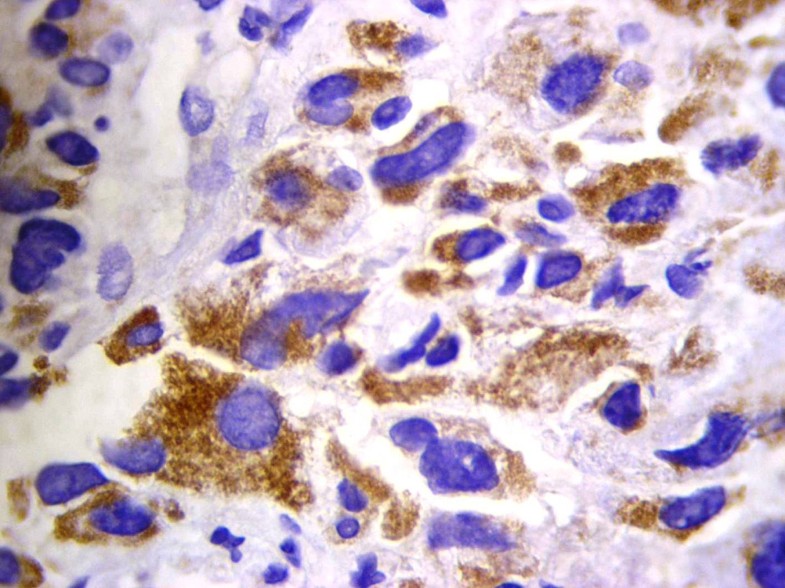 Table 2
Morphology and immunohistochemical characteristics of the reported cases
| Case | Morphology | ALK | CD45 | CD20 | CD79a | CD4 | CD56 | MUM1 | CD30 | EMA | Lambda | EBV | HHV8 |
| --- | --- | --- | --- | --- | --- | --- | --- | --- | --- | --- | --- | --- | --- |
| 1 | Plasmablastic | + | + | - | - | - | - | + | - | ND | + | - | ND |
| 2 | Plasmablastic | + | + | - | + | - | - | + | - | + | + | - | - |
| 3 | Plasmablastic | + | + | - | - | - | - | + | - | + | + | - | - |
| 4 | Plasmablastic | + | + | - | - | - | - | + | - | + | - | - | ND |
Discussion and review of the literature
Conclusion
ALK-DLBCL is a distinct subtype of DLBCL with plasmacytic differentiation that affects pediatric and adult patients. It has characteristic genetic abnormalities and corresponding specific ALK-staining patterns with a prognosis that depends largely on clinical stage. The clinical course of ALK-DLBCL is aggressive with primary refractory disease and high relapse rates. The classical CHOP regimen appears insufficient to treat this condition and newer, more intensive therapies are needed. Given its CD20-negativity, the role of rituximab in the treatment of ALK-DLBCL is unclear. It would be of interest to try agents borrowed from plasma cell myeloma regimens or agents active in novel pathways in combination with chemotherapy given ALK-DLBCL plasmacytic nature. Despite this aggressiveness, some cases, even in advanced stages, could have prolonged survival times as the authors describe in the present article. Further basic and clinical research is necessary to improve our understanding of the biology of the different subtypes of DLBCL with plasmacytic differentiation in order to identify patients with a better prognosis and to develop newer therapeutic techniques.
Consent
Written informed consent was obtained directly from 3 patients and from the parents of 1 patient for publication of this case report and any accompanying images.
Declarations
Acknowledgements
The authors would like to thank Dr. Ronald DeLellis, Chief of the Department of Pathology at Rhode Island Hospital in Providence, RI and Dr. Janet Cowan, Director of the Department of Cytogenetics at Tufts Medical Center in Boston, MA for their support in this study.
Authors' Affiliations
(1)
Department of Oncology and Radiotherapy, Edgardo Rebagliati Martins Hospital, Lima, Peru
(2)
Division of Hematology and Oncology, The Miriam Hospital, Brown University Warren Alpert Medical School, Providence, USA
(3)
Department of Pathology, Edgardo Rebaglati Martins Hospital, Lima, Peru
Copyright
© Beltran et al; licensee BioMed Central Ltd. 2009
This article is published under license to BioMed Central Ltd. This is an Open Access article distributed under the terms of the Creative Commons Attribution License (http://creativecommons.org/licenses/by/2.0), which permits unrestricted use, distribution, and reproduction in any medium, provided the original work is properly cited.